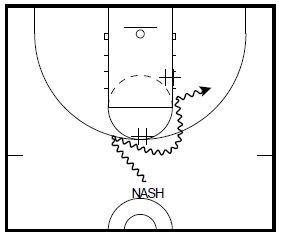 Some drills from Scott Peterman's Basketball HoopScoop NBA Skill Development Bundle.
I like the ideas of players having to make multiple cuts and use multiple skills in a drill just like they have to do during the course of one possession during a game.
Use the drills to stimulate your thinking and staff conversation to find ways to more closely simulate the cuts and skills that your players use within your system during a possession.
This week's eBook bundle is the Coach Peterman's NBA Skill Development Playbook and Tim Springers' NBA Scoring Drills Playbook. You can find out more about them at this link:
NBA Skill Development/Scoring eBook Bundle
Feel free to email me or call/text 317-721-1527‬ if you have any questions about the Bundle.
Diagrams created with FastDraw
Steve Nash High Pick and Roll Bounce Out
Nash takes a high pick and roll screen and attacks the elbow.
If the help is sitting in the paint he will bounce off the lane line into a jump shot.
Drill: Use the chair for a high pick and roll. Attack the elbow and bounce out for jump shot.
Make 20 from each side of the court.
Use different types of ball screens that you utilize in your offense.
When creating space on the second defender, you can also simulate an off balance closeout and drive to score with a floater or some type of finish at the basket.
Look for ways to create drills that work on not only beating their primary defender, but also having to work at beating a second helping defender.
Tony Parker Down Screen into Pick and Roll
Come off a down screen in the corner.
As soon as he catches it off the screen (going full speed), he will dribble into a pick and roll.
Drill: Explode off the first cone (down screen) and catch the ball into a pick and roll (2nd cone) for jump shot
at the elbow.
Make 20 on each side.
You may not have this exact action in your offense, but think about incorporating cuts and movements your players make during the course of a possession into your shooting/scoring drills
This week's eBook bundle is the Coach Peterman's NBA Skill Development Playbook and Tim Springers' NBA Scoring Drills Playbook. You can find out more about them at this link:
NBA Skill Development/Scoring eBook Bundle