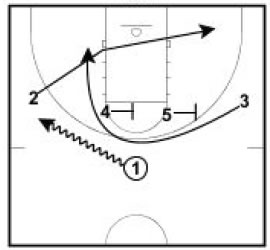 This play is from the Arizona Basketball Newsletter.
It is a very good way to give a good player 3 looks to score before you get into your offense.
If you are interested in joining their email database to receive their monthly newsletter, please email me the following information:
1) Your Name
2) Your School or Team
3) Your Coaching Position
If you like this play, please help me let others know about this site by using the like or tweet buttons at the right.
#1 dribbles at #2
#2 goes through to the short corner
#3 comes off #4 and #5 staggers to post up
#1 looks at #3 in the post
#4 steps out
#1 reverses to #4 and #3 steps in
#4 looks high low to #3
#5 pins down for #2
#4 hits #2
#4 pins down for #3
#2 looks for #3 on a curl