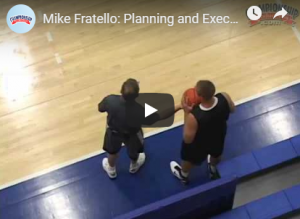 In the video, Mike Fratello walks you through a side out play that is designed to get the ball inbounds at the end of the game when you have a lead and do not need to score.
An example would be 3 seconds left in the game with a 1 point lead, or any scenario where the defense is going to foul as soon as you inbound the ball.
This would also be a scenario where you would want to put your best free throw shooters in the game as well as make sure you have your best available inbounder.
Obviously, it is a coaching decision that you must make, but I believe that even if the best inbounder is one of your best four best free throw shooters, I would still have that player inbound the ball, rather than using our second or third best inbounder.
These are the types of decisions best made in your office before the season starts when you can think clearly and without emotion.
Waiting until the pressure of the end of a tight game is not the time to do your best thinking.
Even if you don't like this play, it is important to have something to go to in this situation.
Click the play arrow to see the video.
The sample video is from the Mike Fratello: Planning and Executing Special Situations DVD. In the DVD, Coach Fratello discusses:
Steal a basket when you need it most
Get insight on how to incorporate specials into a team philosophy and team practices
Learn how to maximize your time outs
Learn to handle a trap and how to trap and recover
Here is a link for more information or to purchase the video Planning and Executing Special Situations