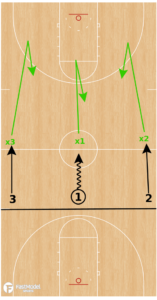 This post was contributed to the FastModel Sports Basketball Plays and Drills Library by Randy Sherman of Radius Athletics.
You can also find out more about FastModel Play Diagramming software by clicking this link: FastDraw
Competitive version of shell drill where a score followed by a stop equals a point and a team must gain three points to win. Drawn 3v3 but can be 4v4 as well. Setup and rules in frame descriptions.
Radius Athletics exists to serve, grow and develop basketball coaches at all levels. How do we do this? Simple.
Pillars of Radius Athletics
Move coaches towards simple, seamless basketball characterized by conceptual offense, transition flow and a defensive approach befitting the modern game
Promote a practice philosophy in line with Growth Mindset and Motor Learning
An "Essentialist" approach to creating a program identity
Modernization of the professional development model for basketball coaches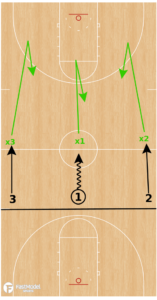 Setup: drill begins with three offensive players competing against three defensive players at the three quarter court level.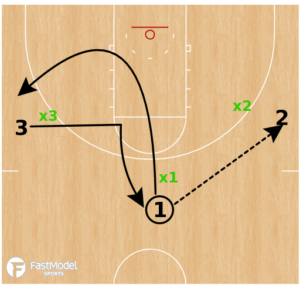 Once the ball is crossed over half court the offense runs the guided shell action of the day. Examples:
Pass, Cut, Fill (shown)
Pass & Screen Away
Pass, Follow, Ball Screen
The teams compete until a shot is taken. If offense scores, the offense and defense switch roles. In order for the basket to count the offensive team that is now on defense, must get a stop to accompany their basket.
A basket followed by a stop counts as one point.
The drill is played until the first team scores three points – three baskets accompanied by three stops.
Advance this drill to 4v4 as well