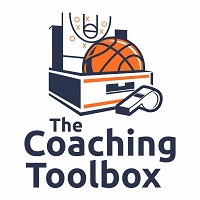 I received a couple of emails this week with some thoughts on program building that I have included in today's post.
ATTRIBUTES OF SUCCESSFUL HEAD COACHING
By Will Rey, Head Coach, Northridge Prep (Niles, IL)
Coach Rey just completed his 38th year in coaching and 11th season at Northridge Prep.  Other coaching stops have included Head Coach at Loyola (Chicago) University and D1 Assistant at Evansville and Wright State.  You can follow him on Twitter @coach4character
1. Have a "vision of greatness" for each individual you coach.
a. Work to bring out the best in each player as a person first – believe in each individual and his innate goodness.
b. Convince each individual that he is capable and worthy of doing great things in life.
c. Build relationships based on trust and honesty.
d. Talk often about things outside of basketball – family, personal interests, etc.
e. The team will reach its potential if the best players trust and believe in you.
2. Build "humble confidence."
a. Begins with knowing the truth about yourself and your need for others.
b. Comes through work and preparation.
c. Collective confidence is greater than individual confidence – draw strength from each other.
3. "Team unity" can and must be developed over the course of a season.
a. Get individuals to buy in to one team vision that is greater than each individual.
b. Team unity is hard to define; but, we intuitively recognize it when we see or experience it.
4. Hold players "accountable."
a. Be fair, firm, and consistent.
b. Be exacting and demanding in your attention to details.
5. "Know your system" and "teach it well."
a. Have strong convictions about how to play and sell your system to your players.
b. Defense is the backbone of our program, but offensive skills will determine our ultimate success.
I received the rest of the notes in this post from Mayville State University Women's Basketball Coach Dennis Hutter. www.coachhutter.com.
Wooden's 3 Rules for Leadership from players
1. Have to be the hardest worker
2. Take care of stuff off the floor
3. Leave all else to the coaches
Leadership starts at the top – no leadership at the top – program is in tough shape.
Expect Greatness,Inspect for Greatness,Accept only Greatness
You want to try and go from "Good to Great", because good is the enemy of great.
On a good team 1-2 players do the "dirty jobs". On a great team ALL the players do the "dirty jobs"
A good friend tells you what you what you need to hear, not what you want to hear.
Four Types of Coaches and players
1. Unconscious/Incompetent – don't know that they don' know. Completely clueless!!
2. Conscious/Incompetent – knows that they don't know. Beginning of wisdom is not knowing –
Proverbs – they hang around good coaches and players.
3. Conscious/Competent – Anal coaches and players – coaches always have good team, but not great
teams
4. Unconscious/Competent – they know and it flows, spontaneous – they don't know how good they
are, so they keep getting better.
BE THANKFUL FOR TOUGH TIMES – "necessity is the mother of invention" – You come up with something, because you have to.
Plan, Prepare, Practice & Play like you just lost your last game.
Never sacrifice toughness and attitude for size and quickness – Jim Tressell
 Teach your leaders how to lead through -Individual Meetings &-Team Meetings
Think about what principles and ideas guide you as a leader.
Warren Buffet looks for three things when hiring somebody: 1. Work Ethic 2. Intelligence 3. Character The first two, without the third one, will kill you!!!
It takes time and experience to be good at your craft.
Eric Musselman's 10 Points of Leadership
1. People follow the leader first, and the leader's vision second.
2. Trust is the force that connects people to the leader and the vision.
3. Leadership is not just about what you do, but who you can inspire, encourage and empower others to do
4. A leader brings out the best within others by sharing the best within themselves.
5. Just because you are driving the bus, doesn't mean you have the right to run people over – RESPECT
6. Rules without Relationships leads to Rebellion
7. Lead with optimism, enthusiasm and positive energy. Guard against pessimism and "weed out" negativity.
8. Great leaders know they do not have all the answers.
9. Leaders inspire and teach their people to focus on solutions, not complaints.
10. Great leaders know that success is a process, not a destination
Thoughts on the "Stretch Four" Concept
1. Duke Basketball's most successful teams have had an outstanding stretch four on their team.
2. Use the stretch four a lot like the "queen" is used in chess, they are permitted to do anything, and are not assigned a specific role.
3. Extending forwards gives you a chance to hide your lack of size or speed while capitalizing on what they do well.
4. "Screen/Roll" your "4" in transition, to further stretch the defense.
5. Our best post defense, is constant hard pressure on the ball from the perimeter.
6. Coaches should not stand in the way of a player's development.
There can be no happiness if the things we believe in are different from the things we do.
Comet Women's Basketball Program Mission Statement: "Daily we must build the individual effort and collective pride and attitude of being a part of the Mayville State Women's Basketball Program through love built around relationships."
Four Characteristics of a good basketball player:
1. Commitment
2. Toughness (Physical & Mental)
3. Communication (Verbal & Non-Verbal)
4. Leadership
5. Goal Oriented
Coach Hutter's Personal Purpose Statement: "Positively impact people through my relationships and interactions with people through my faith in Jesus Christ."
6 C's of a Great Player:
1. Character – Who you are as a person
2. Compete – ALL THE TIME
3. Close – Practices/Games/Season
4. Communicate – Effectively
5. Connectivity – Connects with every teammate to get the very best out of them.
6. Coachability – Effort/Attitude
C & C Concept – "Correct/Compliment
-Correct – Immediate to help retain
-Compliment – later – note/text message – allowing them to go back and read again.
Coaching/Leadership Thoughts
Success is usually the result of team cohesion and leadership. If the players can work together and develop into leaders, they will play better on the court.
While approaches to program turn arounds may vary, all coaches agree that building a "winner" from scratch is less about X's and O's and more about leadership.
If you are taking over a struggling program, you have to sell kids on your long-term vision and the ability to be a foundation of something big
If coaches do not believe that they can be the best, it will hinder their progress.
Coaches need to understand the types of players they have, so they will know how they will respond to things.
It is so important that the coaches model the same commitment level as what they are asking for out of their players.
When players have a routine, they perform better, because they know what to expect