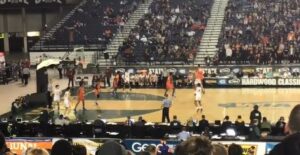 Ryland Brown is an O'Dea High School (WA) assis­tant coach and the res­i­dent out-of-bounds play expert. He breaks down how the Fighting Irish design their side­line and base­line plays, and how they use data to track their success.
0:35 — Helping play­ers get recruited.
Preparing play­ers for the next lev­el with­out an AAU season.
3:26 — Game plan­ning around personnel.
Collaborating with staff to scout and posi­tion play­ers for max­i­mum impact.
4:26 — Using data to mea­sure out-of-bounds suc­cess plays.
Using stats and ana­lyt­ics to set goals and adjust their game plan to execute.
8:22 — Demo using video exe­cute their strategy.
Playlists of their sets and how they deploy lineups.
14:21 — Protecting the tin.
Scouting oppo­nents to sti­fle scor­ing opportunities.
17:04 — Demo of scout­ing oppo­nent out-of-bounds sets.
How they use video to force teams to reset in the half courts.
21:09 — Using num­bers at halftime.
Refocusing on the defen­sive end to stop scor­ing chances.
23:41 — Stopping side­line plays.
Video demo how to take the oppo­nent out of their rhythm.
25:24 — Adopting analytics.
How to start lever­ag­ing data with­in a program.
28:10 — Connect with Coach Brown.
Follow him on Twitter and chat hoops with the Sideline guru.