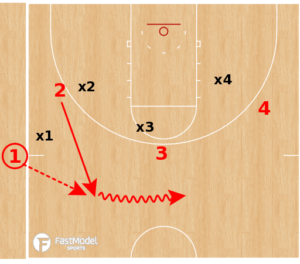 This passing drill was contributed by Matt Wheeler, Olympia High School (Orlando, FL), to the FastModel Sports Basketball Plays and Drills Library.
This is what Coach Wheeler had to say about the play:
50 passes is a competitive team drill that focuses on ball toughness, passing, screening and communication. The goal of 50 passes is to be the first team to successfully complete 50 passes without getting the ball deflected and having the passer say the name of the person they are passing to. Eliminating dribbles after the first pass increases the pressure that the defense can put on the offense, making it more difficult to complete the passes. Requiring the passer to say the name of the receiver helps to build good communication habits while under duress.
You can also find out more about FastModel Play Diagramming software by clicking this link: FastDraw
Editors's Note from Brian. Like many drills that you use to isolate a specific skill, it also has drawbacks.
I like the fact that not dribbling forces the players to screen and cut hard away from the ball to get open. It also gives players with the basketball practice in being strong, faking passes, passing away from the defense, and pivoting.
The negatives, I see are that:
1) Players can get out of the habit of looking at the basket on the catch.
2) Looking to pass and not score
3) The movements you will see are probably not your offensive principles
4) Defense could develop bad habits of gambling for steals and getting out of position.
I see great value in emphasizing passing over dribbling and cutting to get open. So, I think it is worth adding additional rules for the drill such as allowing the offense to score and counting it towards the 50 point total, counting not looking at the basket on a catch as a turnover, running your offensive scheme in the drill (you will have a some situations each game when a dribble is picked up and the offense breaks down anyway), and requiring a player to pass to another teammate than just passed to them (unless it is a give and go.)
I know your staff could come up with other rules if you see value in working to develop the toughness to complete 50 contested passes and catches.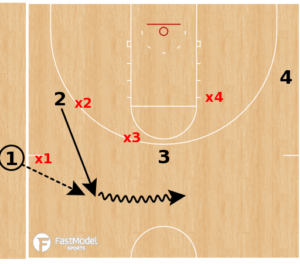 The first team to 50 passes wins.
The first offensive player with the ball on the court gets unlimited dribbles until they make a pass.
After the first pass no dribbles are allowed.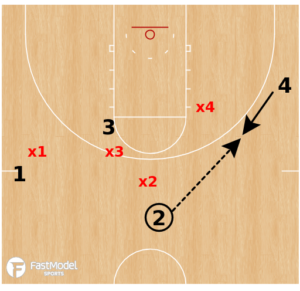 In order for a pass to count towards the total.
– Pass is not tipped by the defense
– Passer calls the name of the receiver while passing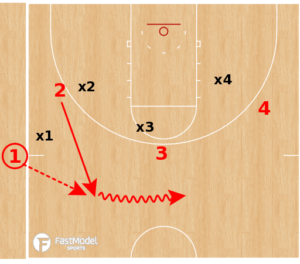 On turnovers, change possession and start with an inbounds pass.
Below is a short YouTube demonstration of the drill. The play is not perfect in the drill, but is is probably similar to what many teams will look like as they are learning the drill.