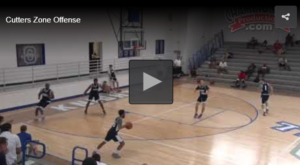 University of Maryland Baltimore County Head Coach Ryan Odom takes you through some of the movements that are a part of his zone offense.
The video is a little over 3 minutes long and hopefully will give you some ideas that you can incorporate in the way that you attack 2-3 zone defenses.
The video is hosted on YouTube.
You will need to be on a network that allows you to access YouTube.
Click the play arrow to view the video.
There is narration with the video, so please make sure that your sound is on.
You can find out more about the Championship Productions video that this clip is from at this link: Cutters Zone Offense