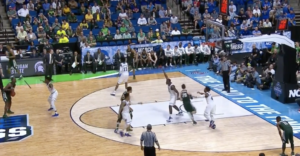 Army Assistant Men's Basketball Coach Zak Boisvert posted these videos on his tremendous resource site for coaches. PickandPop.net
Coach Boisvert has posted several videos of some of the better schemes he has seen. His You Tube channel is: Zak Boisvert You Tube Channel
He also is also very active on Twitter: @ZakBoisvert
Editor's Note from Brian.  The post is provided as food for thought, not to imply that you should implement this in your defense.
If nothing else, at least you can see how other teams are defending.
X Switch for Chin and Back Screens
And, another post he made on using X Switch when defending STS.
X Out Switch for Defending Screen the Screener