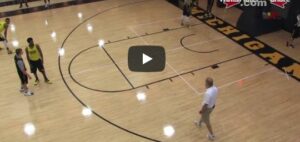 John Beilein demonstrates a play he used while he was at Michigan to inbound the ball and then attack a full court press. He saved the play for late in a game and after a stoppage of the clock.
The video is hosted on YouTube.
You will need to be on a network that allows you to access YouTube.
Click the play arrow to view the video.
There is narration with the video, so please make sure that your sound is on.
Hope this is food for thought for something you can develop to run against a press.
You can find out more about the Championship Productions video that this clip is from at this link: All Access Offensive Practice with John Beilein