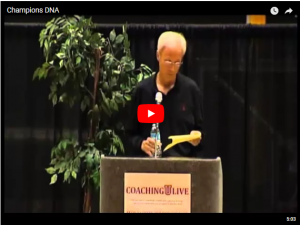 This video sample from Kevin Eastman's CoachingU Live came from his clinic entitled "A Champion's DNA." He served as an Assistant Coach for the Celtics from 2004 to 2013. At that time he made the move to Los Angeles with Doc Rivers and was on the Clippers Coaching Staff. Kevin was promoted to Vice President of Basketball Operations for the Clippers. He is now retired from the NBA and serves as a speaker and consultant.
At the bottom of this post, there are more links to other short videos with Coach Eastman on various topics.
Each sample video is a part of his 8 DVD set which includes High Intensity Skill Development, NBA Drills for All Levels, Stimulate Your Offensive Thinking, Defensive Strategies and Teaching Points, Strategies and Philosophy for Coaching Success, Stimulate Your Defensive Thinking, Defending the Pick and Roll the NBA Way, A Champion's DNA.
If you are interested in finding out more about the DVD set, you can click this link:
This 8 DVD pack of Kevin Eastman's presentations at his Coaching U Live Event is on sale for 50% off until they are gone.  Coach Eastman is moving his videos to an online version and is clearing out his remaining inventory.  Only 10 copies remain.  The sale will end once those 10 sets are sold.
You can also see another 5 minute video on Skill Development from Coach Eastman by clicking on this link below:
Click here for detailed information about purchasing the DVDs at a special price If you need any assistance, email me at [email protected] or call or text (317) 721-1527.
Make sure your sound is on and you click the play arrow to see the video.
The 5 minute video shares some of the core values of his Champion's DNA and how he defines them