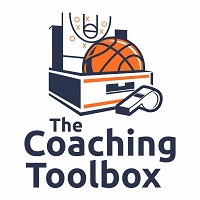 By Brendan Hall
Not all turnover totals are built the same. That's why coach­es look to this stat as one of the biggest deter­min­ing fac­tors in a game's outcome.
By nature of the sport, any­thing you try to elim­i­nate for your­self on offense, you're try­ing to force on defense.
That's why if you believe effec­tive field goal per­cent­age is the No. 1 deter­min­ing fac­tor between wins and loss­es for high school teams, you prob­a­bly believe turnover per­cent­age is close behind. 
Why a per­cent­age over a sim­ple cumu­la­tive total? For one, turnover per­cent­age gives you a bet­ter idea of how you're tak­ing care of the ball when pace is con­sid­ered. A team that racks up a big num­ber of turnovers may sim­ply be play­ing at hyper­speed, and thus not all that bad.
For anoth­er, there are few sta­tis­tics that affect a team's effec­tive field goal per­cent­age more than this one. Think about it the more you turnovers you force, the more missed oppor­tu­ni­ties your oppo­nent will have to score or get an offen­sive rebound.
How It Works
Let's com­pare two teams play­ing in dif­fer­ent games on the same night. Team A com­mits eight turnovers, while Team B has 12.
Team A ran a slow­er-paced game, and had 24 total pos­ses­sions, while Team B was in a faster-paced game with 40 total possessions.
Who had a tougher night in the turnover battle?
To find out, divide the total amount of turnovers by total pos­ses­sions for a team using this for­mu­la: TO/(FGA + .475 x FTA + TO)
Once you've run the num­bers, you'll learn that this real­ly wasn't a bad night for Team B.
How Coaches Value It
Why turnover per­cent­age over a more tra­di­tion­al stat like assist-to-turnover ratio? Just look­ing at the two stats, with­out any under­stand­ing of the flow of the game, the for­mer paints a more com­plete pic­ture than the latter. 
Assist-to-turnover with­out con­text might be able to tell you whether some­one is a good deci­sion-mak­er or not. But turnover per­cent­ages can tell you so much more. How do they respond to pres­sure? Are they dis­trib­ut­ing the ball clean­ly? Are they secur­ing it well enough? Are they play­ing good enough defense?
"It's huge. That gives me a tool," says Orange City University High (Fla.) boys bas­ket­ball coach Robert Soler. ​"If I've got a kid who's trend­ing at 10, 12, 13 [per­cent], and then he shoots to 18, you've got to pay atten­tion. Then let's say a kid is aver­ag­ing 13 – 14 and then drops to 6 – 7. I can tell him, ​'That's a hell of a game, son, you were perfect.'" 
As we men­tioned, turnover per­cent­age can have a vary­ing effect on effec­tive field goal per­cent­age. Forcing a live-ball turnover can often lead to an open layup for your team. The more easy field goal oppor­tu­ni­ties you can cre­ate for your­self, the greater your chances of increas­ing that percentage.
How You Can Use It
This is a great tool for scout­ing, both your­self and your opponents. 
In fact, turnover per­cent­age should be one of the first things you should look at when siz­ing up foes. This will give you an idea of how you should defend them. For instance, if your oppo­nent has a high per­cent­age, you might want to apply an aggres­sive defense — maybe it's an attack­ing zone, man-to-man or even a press. If their per­cent­age is low­er, you might opt instead to sit back and try to con­trol the boards.
And once again, it's also real­ly valu­able to pair line­up data with turnover per­cent­age. Seeing how each of your line­ups rank with turnover per­cent­age can offer some sug­ges­tions about how you can bet­ter stag­ger min­utes among your top-per­form­ing players. 
Looking at your upcom­ing oppo­nent, let's say a par­tic­u­lar line­up of theirs is espe­cial­ly trou­ble­some in the turnover depart­ment. Maybe you can install a spe­cif­ic pres­sure pack­age just for that match-up.
Looking at this stat for indi­vid­u­als might also unearth some new dis­cov­er­ies. Maybe there's a bench play­er who's been demon­strat­ing great ball secu­ri­ty in lim­it­ed min­utes. And when scout­ing your next oppo­nent, you notice they love to play pres­sure defense. This would be an oppor­tune time to give more min­utes to that kid with the low turnover per­cent­age.
**
There's real­ly no end to the ben­e­fits of reli­ably track­ing turnover per­cent­age. Let Hudl Assist give you a head start. You'll get a more com­plete depic­tion of how you're tak­ing care of the ball when every stat is tied direct­ly to video.
Ready to see how Assist works?
Already have Assist and want to get more out of it? Learn all the best tips and tricks with Hudl Academy.