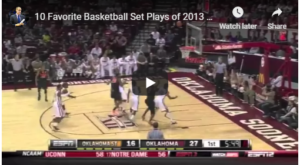 Maine Assistant Men's Basketball Coach has put together some short clips of some of his favorite man to man offense from 2013 NCAA and NBA games on the You Tube video below.
The point is not a "highlight" tape, but the movements to get shots. Several of the teams miss the shots in the video of the set they are running.
He has posted several videos of some of the better schemes he has seen. His You Tube channel is: Zac Boisvert YouTube Channel
If you are interested in subscribing.

He also is also very active on Twitter: @ZakBoisvert
He also has an outstanding resource site for coaches. You can access it here: PickandPop.net
Here are 10 different man-to-man sets. Most are shown more than once. Some have sound and some do not. I hope you can find one or two that fit your basketball program.
The videos are hosted on YouTube, so please make sure that the network you are on provides YouTube Access.

Click the play arrow to begin the video