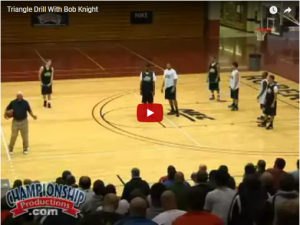 This post contains three videos with Coach Bob Knight showing some of his ideas for attacking man to man defense.
Make sure your sound is on as you watch.
All videos are You Tube videos.
Make sure that you are on a server that allows You Tube access.
An idea for a 3 in offense.
If you are interested in finding out more about the DVD that this video sample came from, click here: Bob Knight: Advanced Tactics & Techniques for Man-to-Man Offense
Triangle Drill
If you are interested in finding out more about the DVD that this video sample came from, click here: Bob Knight: Advanced Tactics & Techniques for Man-to-Man Offense
No Dribble Drill Philosophy
If you want to learn more about the DVD that this sample came from, click here: Advantage/Disadvantage Drills and Motion Offense Drills & Skills
If you want to learn more about the DVD that this sample came from, click here: Advantage/Disadvantage Drills and Motion Offense Drills & Skills
No Dribble Drill
If you want to learn more about the DVD that this sample came from, click here: Essential Drills for Building a Championship Program
If you want to learn more about the DVD that this sample came from, click here: Essential Drills for Building a Championship Program