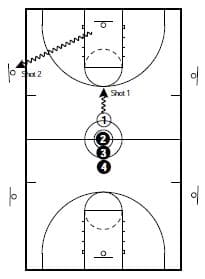 Some drills that you can use in several ways: Warm-up, Shooting, Passing/Catching on the move, or at the end of practice for Conditioning/Competitions/Toughness
These drills are from Coach Justin Remington, Assistant Women's Basketball Coach at San Bernardino Valley College.
Coach Remington is also a basket instructor for PGC.
His Twitter feed is @Coach_JRem
I have a link at the bottom of the post for you to access the entire pdf of his Favorite Practice Drills.
Diagrams created with FastDraw
Full Throttle Shooting Drill
Everyone on the team has a basketball and start at half court. Each player will take the same shots.
1st person dribbles hard to the TOK and takes a TOK three pointer (second person waits until the ball is rebounded before they go and take same shot, each person on the team follows suit) (Shot 1).
Once player gets a rebound they go to the basket to the left for a right handed layup (Shot 2).
Player speed dribbles across the court (push the ball ahead of you, limit your dribbles) for a left hand layup (Shot 3)after rebound player sprints to the right side basket for a short corner (or corner three pointer) shot (Shot 4). Player gets rebound and speed dribbles diagonally for a bank shot above the block (or a reverse layup depending on what you want to see that day) (Shot 5).
The last shot is a wing 15 footer or a wing three pointer (depending on what you want) (Shot 6) (have players go through these 6 shots two or three times and count their makes and report their makes to you after the drill)
Editor'S Note. You could turn this into a team competition by seeing how many the team can make in a specific amount of time.
Relocation Layups
You could change the shot to a 3 jump shot, have someone at the basket to contest the layup, or change the type of finish to add another level of difficulty to the drill or for some variety.
This is a timed drill, Put two minutes on the clock and select an amount of layups you want to see made. Players do not reach it they get a sprint added under TEAM FOULS (to be run later in practice)
1. Team lines up on sideline as shown
2. Player with basketball under the rim throws the ball off glass and outlets to 2
3. Player 1 runs the lane, player 2 passes back t o player 1 and cuts diagonally across the floor to the opposite sideline
4. Player 1 passes ahead to 4, 4 passes it back to 1 who will shoot the layup
5. Player 4, after the pass back to 1, will cut diagonally across the floor (as shown)
1. Player 1 gets rebound and outlets to 2
2. Player 2 passes back to player 1 and sprints across the court and gets into line behind 5.
3. Player 1 continues and passes ahead to 4
4. 4 passes back to Player 1 and follows player t o the basket to get rebound
5. Player 1 finishes and Player 4 rebounds and goes back the other way to repeat the process.
Coach Remington has a 54 page pdf assembled with Moreno Valley's Favorite Practice Drills. You can access it by clicking this link: Moreno Valley Practice Drills