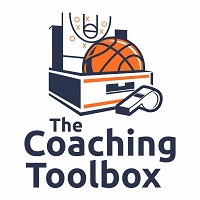 Bob Starkey's blog is one of my favorite coaching blogs. He has several year's experience in both men's and women's Division I programs. He is currently an assistant for the Texas A & M Women. You can see all of his post here: Hoop Thoughts
There was a leadership quote from Vince Lombardi on one of his leadership posts.
"Leadership is not just one quality, but rather a blend of many qualities; and while no one individual possesses all of the needed talents that go into leadership, each person can develop a combination to make him or her a leader."
With that thought in mind, here is a list of some of the takeaways that I have collected from Coach Starkey's posts on leadership that have resonated with me. I hope you find a few that have value to you as well!
Coach K
"They say, 'You can't teach an old dog new tricks.' Coach K is breaking that cliché. He's an old dog for sure, but he looks young on the sideline. He has a lot of passion and intensity, but he's not so rigid that he doesn't evolve and change with the way kids are today and the way the game is played today." He's coaching differently today than he did 20 years ago.
"I'm sure he's still stubborn about some deep-rooted, hard-core philosophies that he has," Christian Laettner said. "I'm sure he delivers those messages to the kids very strictly and very stubbornly. In other ways, he has to be willing to change, be willing to give in and relent, and relate with these young players today."
Dean Smith
All great leaders know you can't just talk about good character; you have to live it. To become an extraordinary leader, you must build your own personality skills. This comes first. You must be what you want your followers to become.
Effective leaders build themselves fundamentally. They develop healthy personality characteristics. They love people, care about them, are interested in them, and enjoy interacting with them.
They learn to work well with all kinds of people.
The greatest leaders I've known are absolutely devoted to their people. There's no way to fake it. They put their people in the center of their thinking. They treat their employees with dignity and respect, and they don't embarrass them or berate them.
A leader won't accomplish much, or even be happy, unless he or she is willing to compete. Leaders should love competition and not be stifled by it. They must give everything they have to achieve their personal and companies' goals, as long as it's done with honesty and integrity and within the rules. Good leaders enjoy putting themselves on the line.
Modesty is also a trait of good leaders. They accept criticism and understand their limitations.
It's the people who bring the same great effort to work effort to work every day who don't burn out.
Self-discipline: Managers must work until they finish a project. That means having the patience to repeat things until they are done correctly. Usually it's the dreary 5 percent of the wrap-up that's the hardest.
Concentration: You must stay in the present and focus on each task, one at a time. Don't jump ahead to another problem before you finish with the one at hand.
Good leaders love sharing credit for success and understand why it's important.
John Maxwell Self Evaluation Questions for Leaders
Am I Investing in Myself? This question probes your commitment to personal growth.
Am I Genuinely Interested In Others? It's essential to regularly question your motives. There's a fine line between manipulation and motivation. The former moves people for personal benefit, while the latter moves people for mutual gain.
Am I Taking Others to a Higher Level? This question has to do with mission. As a leader, you're in the people development business. Fulfilling your mission depends upon lifting the performance of those you lead. By adding value to those you lead, you're investing in men and women with the potential to multiply your influence exponentially.
Am I Taking Care of Today? How you treat today speaks volumes about your likelihood of success. In fact, if I spent one day observing your priorities, behaviors, and interactions with people, then, with about 90% accuracy, I could let you know your leadership potential. Why would I be so certain in my judgment? Because I've learned that the secret of your success is determined by your daily agenda.
Various
Have a thoughts and notes journal that you keep just for you. -Dick Bennett
Don't wrestle in the mud with a pig because you both get muddy and the pic likes it. Don Meyer
Successful people leave clues for us to study. Don Meyer
Without question, one of the main things a leader must do if forge a set of principles and goals that excite and inspire those that he/she leads. I also believe that big part of that is allowing the followers to be a part of that process in deciding why they are doing what they are doing. Bob Starkey
"I'm not remotely interested in being just good." Vince Lombardi to Green Bay Packers during his first meeting with the team after being named the new Packer Coach. And, in just a few words, he simply yet eloquently set the standard for his team and organization.
"Our veteran players, have been very consistent in how they prepare and go about the games. Then, it's an easy model for the younger players to follow." Mike Matheny
Being a true leader means thinking long term and committing to your people even after they're no longer part of your effort. That means offering mentorship and opportunities for them to grow. As a coach, I would tell our student-athletes that I was going to be their coach for four years but for the rest of their lives. I take great pride in my relationships with my players after college and I think it makes our relationships better during. From Leadership Lessons from the US Army.
There is a correct way to correct. It doesn't need to be demeaning. You don't want the corrective instruction lost in your tone. Bob Starkey