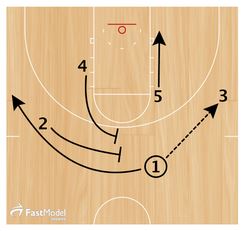 This play is from Coach Randy Brown.
Randy has continued his passion for the game of basketball well beyond his 30+ year coaching career.
An 18 year NCAA Division I head and assistant coach he knows the difficulties of coaching and assists coaches of all levels around the world to help improve our ability to teach the game of basketball the right way.
Check out Randy's site: www.coachrb.com
This play is posted on the Fast Model Play of the Day Site. Click on the link to check out a lot of other great drills and plays!
1 pass to 3
2 and 4 set staggered flare screens for 1
3 pass to 2
4 sets ball screen for 3
2 penetrates, kicks to 1 in corner for shot

OR
1 clears to opposite corner
4 sets ball screen
2 penetrates
4 rolls