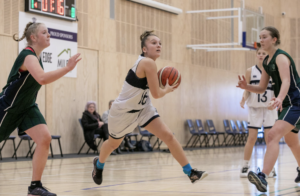 You don't need a coaching background. You just need to know where to focus.
Whether you volunteered to coach or were volunteered by someone else, youth basketball needs people like you. People who care about doing a good job for the kids. People who care enough to spend their free time doing research online and reading blogs on how to coach effectively.
So before we begin, thank you for answering the call and taking the responsibility seriously. In return, we want to empower you with some advice we picked up from experienced youth coaches.
1) Winning isn't everything.
John Wooden. Pat Summit. Mike Krzyzewski. Dawn Staley. Geno Auriemma. 
Do you know what all these basketball coaching legends have in common? None of them are in the youth basketball hall of fame (mostly because it doesn't exist). So if you're in the youth coaching game for the glory and accolades, you'd best get out now.
Wins and losses are meaningless at the youth level. Going undefeated isn't a sign of dominance — it's a sign of weakness. If you're truly doing right by your players, prioritize developing players over winning. 
Focus your time in practice and in games on helping young players improve their skills and creating an enjoyable experience so that they sign up to play again next year.
2) Don't. Play. Zone!
Zero pro teams use it and very few college teams do. And if they do, it's usually for a few minutes or a handful of possessions before they ditch it again.
So why on earth are so many youth teams playing zone defense every game, all game long?
Playing zone doesn't prepare players for the long haul. Playing zone exploits players at the youth level, as most don't have the strength to shoot three-pointers with any accuracy or consistency.
It may be helpful to think about it in terms of basketball principles. Zone defenses use some of the key principles of man-to-man defense, but it's not true the other way around. Zone concepts don't transfer as well to man-to-man defense. So by coaching your team to play zone, you're teaching them non-transferable defensive skills. That's not setting them up for success.
You will more than likely play against a zone defense at some point. Maintain your approach, coach hard, and emphasize having fun.
But don't play zone.
3) Focus on core skills with everyone.
The three primary areas of development are passing, ball-handling and defense. Shooting will be important as the athletes get older, but not right now.
One common mistake youth basketball coaches often make is coaching skills for position groups, like guards and post players. But the tallest kid in fourth grade isn't guaranteed to be the tallest player in high school — or even middle school.
Instead, emphasizing those three primary skills will ensure that every athlete has the fundamental skills that will set them up for success, no matter what puberty throws at them.
Oh, and one more thing: Conditioning is important, but try to bake that into the drills you're doing rather than having your team run lines. Kids like to run and running is a majority of youth sports. Instead, tell them to sit out for a few drills. Being left out is oftentimes a far worse punishment. 
4) Use video when possible.
We chatted with Mike Quinn, head coach of the Garnet Jags youth basketball team, about the value of video at the youth level. Quinn has a rich past of playing and coaching experience and has coached his son's and daughter's teams for a few years, implementing video review effectively with his teams.
"I started using Hudl for my son's team when he was in fifth grade," Quinn said. "Having video for kids and parents to view on their own is tremendous. Especially as kids these days…almost all of them have an iPad or an iPhone. So they can go on the Hudl app and watch film on their own and on their own time."
Quinn often hosts Google Hangouts with his team on days off from practice, where he'll share his screen and walk them through a few clips in Hudl. Kids' attention spans are short, so Quinn keeps these brief, never lasting more than a half-hour.
"Kids will think they did one thing, say they did 'X.' But the film doesn't lie. So you show them the video and they go, 'Oh, I didn't do what I thought I did or what I thought I remember doing.' It's easier for them to course correct in their earlier years."
Remember: As a youth basketball coach, you're preparing kids to be coached again in the future. If you can incorporate tools like video to give instructions and teach fundamentals at a young age, you're setting up your athletes for success by helping them learn in new ways and by helping them be more coachable.
5) Prioritize equal playing time for all players.
Especially in leagues or age groups where your toughest competition comes when trying to secure a court for practice. In many cases, teams will be limited to one practice and one game a week. That's approximately two total hours of basketball activities.
Best case scenario, parents and guardians are understanding and supportive. But even at young ages, it's not uncommon to have adults lobbying for their child to get more playing time. 
Stick to your guns. Let them know that your top priority is helping every kid learn to love basketball. To do that, every kid deserves their chance to dribble, pass, defend and maybe even shoot it once in a while.
However, it's common for one or two players to stand out on youth teams. Kids who have a knack for learning quickly or have solid motor skills for their age. More likely than not, those players will end up touching the ball the most or shooting more than their peers—that's just the nature of the game. 
Regardless, it's important that each kid gets a fair shake. Your job is to get each player involved. 
Remember when we said winning isn't everything, and that losses can be a sign of good coaching? This is as good a time as any to remember that.
6) Ask for volunteer assistant coaches.
Expect short attention spans, goofing around and other kid behaviors. Just because they're at practice doesn't mean they stop being kids.
Our advice: Don't go it alone.
Ask parents or guardians to pitch in or sign up to be an extra set of eyes or hands for practices or games. You can even create a rotating schedule where they take turns as your assistant coach throughout the season.
It helps getting parents involved so they can see firsthand what's going on in practice and how their child is progressing. But just as important, it gives added help to keep things on track.
Remind volunteers that they don't need to know basketball well, if at all. Ask them to show up 10-15 minutes before practice and you'll run through your plan together. 
That's a win-win.
7) Make it fun.
Make a concerted effort to celebrate each player when they improve or perform well, not just when they make a basket. Every kid gets excited when the ball goes in and the crowd cheers.
Instead, focus on when they make a nice pass, have a productive dribble or play sound defense and rebound. 
At the end of the day, kids love to play. They may have boundless energy or want to spend time playing with friends. They need structure and leadership. Basketball provides all that and more. This game can be the gift that keeps on giving. 
Now, it's your gift to give. Have fun with it.
If you've made it this far into reading this article, then it's pretty clear that you care a lot about doing a good job. And regardless of the level you're coaching—from the pros down to elementary school hoops—the best coaches are the ones that care the most.
It's the coaches that care about their players. The ones that want to leave the game of basketball in a better place. Long after their playing days are over, your players won't remember the scores. But they will remember how you coached them.
Coaching youth basketball is an opportunity to develop key skills, instill character, and foster a love of the game that can last a lifetime. You're the right person for the job.
For more information, be sure to check out the NBA's guidelines for youth basketball or check out how Hudl can help provide instruction and improve skills through video.