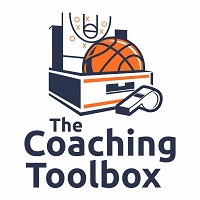 These are some random thoughts from current LA Clippers VP of Basketball Operations, former NBA Assistant and D1 Head Coach Coach Kevin Eastman. Many of the notes deal with post play.
You can follow Coach Eastman on Twitter:
https://twitter.com/kevineastman
I hope some of these ideas will spark a few thoughts that will improve your program
I also have a sample five minute video of Coach Eastman discussing his views on skill development. Click this link to see it.
Coaches, play the way you play and dedicate to it."
We always ask ourselves and players, who can be mentally tougher.
Take Time to: Learn, Grow, Stretch Ourselves, invest in our success, and become more
Teaching emphasis: "Back to the area of attack on screens", "Ten toes to the rim" (shooting), "Eyes make layups, feet make jump shots"
Quality of feet = quality of shot
Not 1 or 2 things, but a lot of things.
Give your team 1 timeout per. practice.  -Helps you learn who your leaders are.
3 Keys to Defense: Position, Awareness – Know what may happen next , Alertness – When you're needed you go.
Big men must own mid-line.
The closer you are to the rim the less skill you need.
We don't want to post up. -Post across which gets you into mini lane or gets you to mid line.
Create Mini Goals
3 Lay-ups a quarter.
1 pass ahead lay-up a half.
Mistakes Post Players Make:
Not Running
Not Posting
Not Getting the Basketball
He Thinks He's Open
Get basketball into paint 60 x's a game, 48 for college. (2/3 of possessions)
Things to tell your post players:
"Stay clear between the ears."
"You dont have to score to play."
"If you want to find a niche, offensive rebound."
"Need niche guys on your team, find a niche ENERGY guy."
When you work, make sure you and the players work with their heads.
Filling the lane and running rim to rim requires no skill but commitment and will.
"If you rebound too much you won"t come out!"
ROLE: "May not be the one you want, but what we need to win a championship."
"The more you go after the basketball, the more you get!"
To be a great rebounder you much take away middle and weak side triangle.
"Fist fight to get open, foot fight to score."
"Play the leverage game to get position."
Shoulders game defines leverage, the lower shoulders usually wins.
3 C"s to tell Post Players:
Catch
Chin
Check
Catch – Perpendicular catch has no chin, to post use high leg to create space.
Must watch cutters, traps, and digs.
Feet give the post player the advantage.
See 90% of the floor after you catch it.
Give up position for possession.
Butt into thigh for no deny on post up.
Spacing – Must sprint to spacing. – If you jog help will stay.
Play low to high.
Sealing:
Feet
Butt
Hands
Triceps
"Pause for poise."
When posting work to get the deny arm out of the way.
Learn and know your teammates.
Run rim to rim.
Post Move
Feet 1st to get advantage.
Basketball second to get separation.
On the catch read, don"t rush.
Let post feeders cut – shoulders to hips
Don't limit options by where you post up to get power.
If you need it, use shoulders and hips Timing, don't waste a post up.
Post late instead of early. If you can't score we don't want you to post up.
When you catch utilize everything you have on your bodies. Use FAKES!
Half court – Dunk off two feet.
Drop step to be right at rim. Get ankle to middle of the rim.
"Inside outside post deeper."
"Inside outside follow."
Change speeds on your moves.
If you see the back of their head, cut! Watch you man on defense, not the basketball.
Screen 1st guys, post second guy in 2-3 zones.
Tell Players –
Get ahead of man.
See basketball.
Get to front of rim.
Post.
Ask Post Players – Can you score?
Low block
Baseline
Elbow
Trailer
I also have a sample five minute video of Coach Eastman discussing his views on skill development. Click this link to see it.