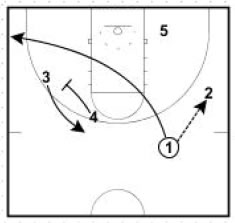 This play is from the Arizona Basketball Newsletter.
It is designed to run against a man to man defense.
This play starts out of 4 around 1 Set.
The play has 2 options to use to finish it.
If you would like to be added to their monthly basketball coaching newsletter. I need your name, coaching position, and school and I will forward it on to their Director of Basketball Operations.
1 passes to 2 and cuts to the opposite corner as 4 screens for 3
2 reverses the ball to 4
As 4 hits 1, 3 screens for 5
Two Possible finishes
Screen the screener with 4 screening for 3
OR
3 cuts Backdoor into a cross screen for 5
Then into a 5 for 1 ball screen