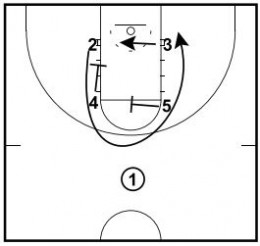 A set to run against man to man defense.
This action was included in the Xavier Men's Basketball Coaching Newsletter.
If you are interested in seeing their Newsletter Archives and/or subscribing to their newsletter, you can do so at this link: Xavier Basketball Coaching Newsletter
Diagrams created with FastDraw
Back Screen Elbow
2 Iverson cuts off of 4 and 5.
3 puts head under the rim.
4 and 5 set a staggered screen for 3.
4 sets a back screen for 1.
1 clears to the corner.
2 cuts to the ball side corner.
5 cuts to elbow.
4 sets a middle ball screen for 3.
5 sets a flare screen for 4.