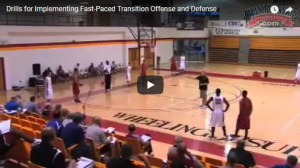 In order to help clarify our terminology and communication, I refer to going from offense to defense as conversion and from defense to offense as transition.
I believe that every day as a part of your defensive work, it is essential to work on some type of conversion defense.
In my mind being good defensively starts with being very good at converting to defense in order to force your opponents to play against your half court 5 on 5 full strength defense.
A big part of being strong in the conversion aspect of defense starts with not turning the ball over and taking good shots. That allows you to apply your defensive conversion system.
This link is to a post where I have shared some ideas on defensive conversion: 12 phases of a possession
The video is a YouTube video, so please make sure that you are on a server that allows you to view YouTube videos.
You might already use something similar to this drill. I like three things about the way the drill is set up in the video.
1) Having a few players near half-court line to start the drill
2) Throwing a loose ball with the team that gets it to get possession
3) Coming back so that both teams get to convert each way.
Make sure your sound is on as you watch.
Click the arrow to play the video.
There is nothing to purchase to see the drill
If you are interested in seeing more information about this DVD, or any other DVD in the new and improved Coaching Toolbox shop, click here: Drills for Implementing Fast-Paced Transition Offense and Defense