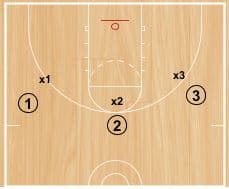 These skill development drills are from Scott Peterman's 2011 Skills Development Notes Collection.
The main purpose of sharing these drills is to get you thinking about ways that you can modify the drills that you use.
This week's eBook bundle contains 3 eBooks:
NCAA Tournament Coaches – Basketball Skill Development
USA Olympic Team Basketball Drills
130 Ways to Improve Your Program's Attention to Detail
You can find out more information about the bundle at this link:
Man in the Hole Drill (Matt Painter Purdue)
Defensive toughness
1. Play 1 on 1 full court
2. The defender must stay on the court for 3 trips up and down
3. The offensive player changes with every possession
4. The defender must try to make the offensive player change directions in the back court and also stop the offensive player from scoring
5. You can force players to concentrate on moving their feet in any individual or team defensive drill by having them hold tennis balls in their hands while playing defense.
36 Second Drill
Diagrams created with FastDraw
1. 3 pairs of players, each pair has 1 ball
2. Must stay in their lanes
3. The dribbler must try to penetrate to the basket 
and then pull back and attack again
4. Rotate the defenders to the right every 12 seconds
4 on 4 half ­court
To work on the skill of getting open
• Coach inbounds the ball
• Offense scores by making passes
• 2 minutes (half on offense/half on defense)
• Defense scores by touching the ball (1pt) or turnovers (2pts)
• Allow the offense 2 dribbles
• Cannot pass to the same player that passed to you
(Note: this eliminates give and go and that is up to you if you want to allow that in the drill. Not allowing players to pass to who passed to them promotes movement away from the ball)
• Pass, cut, screen, and fill open perimeter spots within your offensive system and rules.
• Can have the defense switch to teach and practice getting open against switching defenses.
Validating Your Drills
If you have an individual drill with a set standard for completion, have the player shoot a free throw to "validate the win." They have to make the free throw for the win to count.
For team competitive drills or scrimmages, you can either validate the win with one player shooting a free throw, or you can have each player on the winning team shoot a one and one free throw opportunity. Set a standard for the number of free throws that must be made to validate the win. For example, if there are 5 players on the team, the squad must make a total of 7 free throws with each player shooting a one and one.
This week's eBook bundle contains 3 eBooks:
NCAA Tournament Coaches – Basketball Skill Development
USA Olympic Team Basketball Drills
130 Ways to Improve Your Program's Attention to Detail
You can find out more information about the bundle at this link: