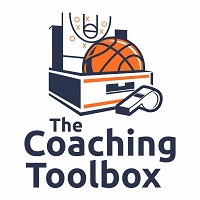 One of our clock management rules at the end of a game where we are behind is that if we gain possession at the opponent's end with under three seconds to go and the clock is running, we call timeout immediately.  That includes after an opponent's basket where they tie the game or take the lead. We don't want the player who gets the ball to look at the clock, so if the player is in doubt as to how much time remains, we want them to call timeout and are not concerned if there is more time than three seconds remaining.
For instance, if there is six seconds and an open court, some players can score in that amount of time, but it the player is in doubt as to whether or not we can get a good shot in transition, we want them to call the timeout immediately.  If the ball goes through the basket, we want all players on the floor (and the coach on the bench) yelling "timeout", making the timeout sign and moving toward the officials.
We then like to throw to half court and call timeout to set up our last second play.  For this reason, we save our timeouts until the end of the game.  I will send out a link to our favorite half court inbound play tomorrow.
If we are inbounding the ball and have to go full court without a timeout and are tied or down one or two, we like to have a play to throw the ball inside our three point arc.  The play varies depending on our personnel year to year, but we feel that if you throw the ball inside the arc, good things will happen.  We feel that more good things are likely to happen if you can throw the ball closer to the basket as opposed to throwing it in and then taking a three-quarters or half-court heave.  If you do throw long and the ball is knocked loose, it is much more dangerous to your opponent if the ball is knocked loose at your basket than at half court.
Here is an example of how throwing the ball long give you a chance, even if the defense deflect the pass.  Brownsburg (Indiana) High School trailed by one with 2.1 seconds to go in the 4A state championship last March.  By throwing the ball long, the caught a break.  In my opinion, they made their own break by being smart enough to throw the ball long rather than settle for a heave.
The Coaching Toolbox has hundreds of free resources for basketball coaching including basketball plays, basketball drills, basketball quotes, basketball workouts, basketball poems, and more!