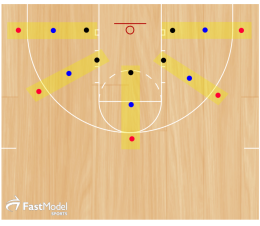 These shooting drills were posted in the FastModel Sports Basketball Plays and Drills Library
The site has thousands of drills and plays that have been submitted by basketball coaches from around the world.
You can also find out more about FastModel Play Diagramming software by clicking this link: FastDraw.
I hope you can either add these to your summer workouts for a change of pace, or can use them for your fall workouts, or possibly even save them for practice when the season starts.
These drills were contributed by Kyle Gilreath. Kyle served as a graduate manager at Florida and is currently the Head Boys Coach at Astronaut High School in Florida.
He contributes a great deal of content to the coaching community through the FastModel library and his coaching blog, Words on the Bounce.
Kyle is the author of the coaching eBook Championship Execution. He is currently on the Pure Sweat Basketball staff as well.
Hall of Fame Shooting Drill
Make 8 shots from each of the 5 zones.
Make the following 8 shots from each of the 5 zones (color designates the spot where the shot starts:

1. Catch & Shoot
2. Mid-Rand Catch & Shoot
3. 3-pointer Catch & Shoot
4. 1 Dribble Right – Shot
5. 1 Dribble Left- Shot
6. 1 Dribble Right – Step-Back
7. 1 Dribble Left – Step-Back
8. 3-pointer Catch & Shoot
If a shot is missed, you go back to the previous spot/shot within that 'zone'.
Cone Shooting Progression
Catch & Shoot
1 Dribble Right – Shot
1 Dribble Left – Shot
1 Dribble Right – Continuous Lateral Between the Legs – Shot
1 Dribble Left – Continuous Lateral Between the Legs – Shot
1 Dribble Right – Change – Floater/Runner
1 Dribble Left – Change – Floater/Runner