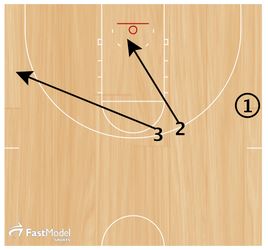 This basketball drill was posted by FastModel's plays and drills library. You can modify it to fit the movements that your players defend frequently and use it either in spring and summer workouts or during in season practices.
The FastModel library has hundreds of plays and drills from coaches all over the world and from various levels of coaching. You can check it out here:
FastModel Sports Basketball Plays and Drills Library The site has thousands of drills and plays that have been submitted by basketball coaches from around the world.
You can also find out more about FastModel Play Diagramming software by clicking this link: FastDraw
This drill was posted by Tom Kelsey. Coach Kelsey is the Director of Basketball Operations for the LSU men's basketball program. He has been a small college head coach, winning multiple coach of the year honors.
He has also spent time on the coaching staffs of Don Meyer and Mark Gottfried.
Good drill to get your players into a defensive stance and in a proper position from different spots on the floor. Can use in individual workouts, pre-practice and pre-game warmups. Can make the drill competitive by using players in the position of the coach. Also, have teams compete against each other while still working on the fundamentals.
Coach or player starts with the ball at the top of the key.
First step is to deny the wing pass. As you begin working this drill emphasis placed on positioning and stance.
When players become more advanced, pick up the pace and make everything game speed.
2nd step is to deny the post as the ball is being dribbled toward the wing.
3rd step is to deny the Zipper cut up the FT lane.
4th step is to drop into helpside as offense goes to the opposite wing.
5th step is to come over and take a charge on offense driving to the basket.
Coach or player with the ball can push the ball into the chest of the defender to imitate an offensive player out of control.
Offensive will make a skip pass to opposite wing. Defender quickly gets up and closes out on the wing.