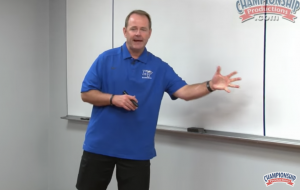 This video is of a 4:05 whiteboard session with former Middle Tennessee (currently at Mississippi State) Coach Kermit Davis going through a drill he uses daily to work with his players on footwork, passing, and catching against defensive pressure.
The video is a YouTube video so make sure that you are on a server that allows YouTube access.
If you are interested in learning more about the DVD that this sample was taken from, click here: Offensive Skill Development Against Pressure
I have also listed some skill development drills that have already been posted on the site below the video.
There is no on-court demonstration, but I think you can understand the way that he runs the drill by following along with his diagrams and his demonstrations. Like any other drill, you should tweak it until it is something that fits your system and improves the skills of your players.
Make sure your sound is on The video is 4 minutes long.