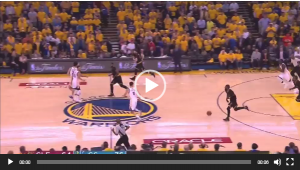 Knocking off the champs won't be easy. But as the rest of the NBA works to construct rosters to dethrone Golden State, here are some trends they should be monitoring.
Last July 5, Kevin Durant signed with the Warriors, joining a 73-win juggernaut and causing nationwide declarations that the 2016-17 season was simply a byproduct of getting Golden State back on top.
The campaign provided its share of epic moments and historic individual performances, but it ended the way many predicted it would 11 months earlier – with Durant hoisting both the Finals and Finals MVP trophies, and the rest of the league wondering how on earth it could catch the Warriors' budding dynasty.
In Durant, Steph Curry, Draymond Green and Klay Thompson, Golden State boasts four of the league's top 20 players, all of whom are under 30 years old and, assuming Curry and Durant re-sign (why wouldn't they?), under contract for two more seasons. Barring a major injury or unforeseen circumstance, the Warriors aren't going away anytime soon.
So how does the rest of the league cope? It's not enough to simply accept Golden State's dominance and hide under a rock until the stars age or break up. The rest of the NBA is searching for counters.
Though they fell 4-1 in the Finals, the Cavaliers may have shown at least a few cracks in the Warriors' formidable armor. Cleveland actually outscored Golden State by 12 in the Finals' last three games, and had a few more Cavs shots found their home, this could have been a very different series. After our team of Hudl Assist analysts broke down the Finals, we found some trends that should leave the rest of the league at least semi-encouraged that the Warriors don't have the NBA in a headlock for the next few years.
Inside Job
It's obviously not easy to do, but the Warriors can be scored on inside. The Cavaliers scored 46.4 points in the paint per game in the Finals, and none of David West, Zaza Pachulia or JaVale McGee are strong rim defenders (they're also all free agents). With key players like Andre Iguodala and Shaun Livingston also entering free agency, not to mention Durant and Curry, the Warriors have a lot of priorities to address, and adding an elite rim protector likely won't be possible.
Green and Durant are both above average weakside defenders capable of challenging shots, but neither is a great rim deterrent. If there is one place to attack Golden State's elite defense, it's in the paint, and that's just what the Cavs were able to do. Look again at those final three games, during which Cleveland outscored the Dubs 146-133 inside.
Consider also that the Cavs averaged nearly 25 free throws per game and put up an impressive .27 free-throw factor (FTA/FGA), a mark that would have ranked 12th in the NBA during the regular season.
It's easy to get caught trying to play the Warriors' game as they rain 3-pointers, but that's falling directly into their trap. The Cavs tried that at times to disastrous results. Sure, they dropped a Finals-record 24 triples to help win Game 4, but that clearly wasn't sustainable. Check out Cleveland's shot chart from the rest of the Finals.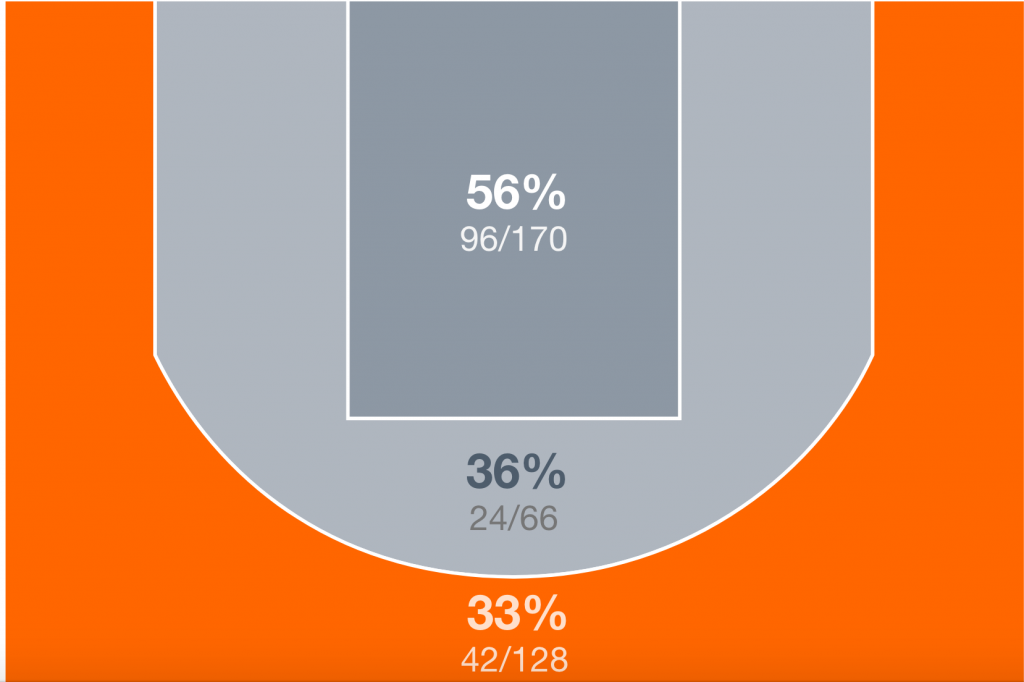 When the 3-pointers dried up, the Cavs found some success getting inside. The problem is that they didn't do it enough, and Golden State was savvy enough to take advantage.
Go Small or Go Home
Playing multiple big guys is a nice wrinkle against most teams, but it's fatal against the Warriors, even when Steve Kerr isn't deploying his vaunted Death Lineup. The Warriors are just too quick, and asking a big, even one with quick feet and a good change of direction like Tristan Thompson, to stick with Durant or Klay Thompson just isn't fair.
Lineups that included both Thompson and Love were outscored by 12.6 points per 100 possessions in the Finals, posting a -12.6 net rating. The Warriors scored 1.3 points per possession during those 72 minutes.
The solution isn't simply to go small – no team in the NBA can roll out as strong an undersized lineup as the Dubs. You need to find a mobile, athletic big who can hold his own on a switch (not an easy task) and roll him out there with four capable wings. The Cavs yielded just 1.001 points per possession with Love on the floor and Thompson off, and allowed just 1.1 points per possession with the inverse. When the two shared the floor, the number skyrocketed to an untenable 1.4. Yikes.
With Thompson guarding Green, Durant basically starts salivating when Love picks him up on a switch.
Cleveland's best high-usage lineup in the series was Kyrie Irving/James/JR Smith/Love/Richard Jefferson, which posted a plus-minus of +4.7. Love and Thompson are both great players and form a tremendous front line in most matchups. But the Warriors murder units like that, and any team hoping to topple the champs needs to consider sticking with one big at a time.
Get Deep
James was an absolute monster in the Finals, averaging a triple double and tossing up a casual 33.6 points, 12 rebounds and 10 assists per game. Irving too was spectacular, averaging 29.8 points on 47.2 percent shooting. Love chipped in 16.2 points and 11.2 rebounds per game.
Cleveland's biggest problem was that, after Smith (11.8 points) the supporting cast fell apart. Thompson (plus-minus of minus-30) was a mess offensively, Kyle Korver (minus-20, 31 percent shooting from 3) and Iman Shumpert (minus-15, 23.5 effective field goal percentage) went ice cold and Deron Williams (2-for-16 in the Finals) was a wreck. The Cavs built their bench out of again veterans and it backfired at the worst possible time.
Nothing symbolized this more than Korver's wide-open miss at the end of Game 3, a brick that essentially sealed Cleveland's fate.
As great as James, Irving and Love are, they cannot go it alone against a team as high-powered as the Warriors. They needed more help, and Cleveland's bench just didn't have it.
Golden State is clearly a team built around stars, but they also got meaningful contributions from Iguodala (+51), Livingston (22 points in the paint), David West (+20), Ian Clark (53.1 EFG) and Pat McCaw (+8) in this series. Even if their studs were slumping or in foul trouble, they had reliable pieces to fall back on, something the Cavs clearly lacked.
A team built solely around a few stars isn't enough to topple Golden State. Even with James and Irving at the height of their powers, the Warriors handled the series with relative ease. Check out the shot chart for Cleveland outside of James, Irving, Love and Smith, the one role player who held up his end of the bargain.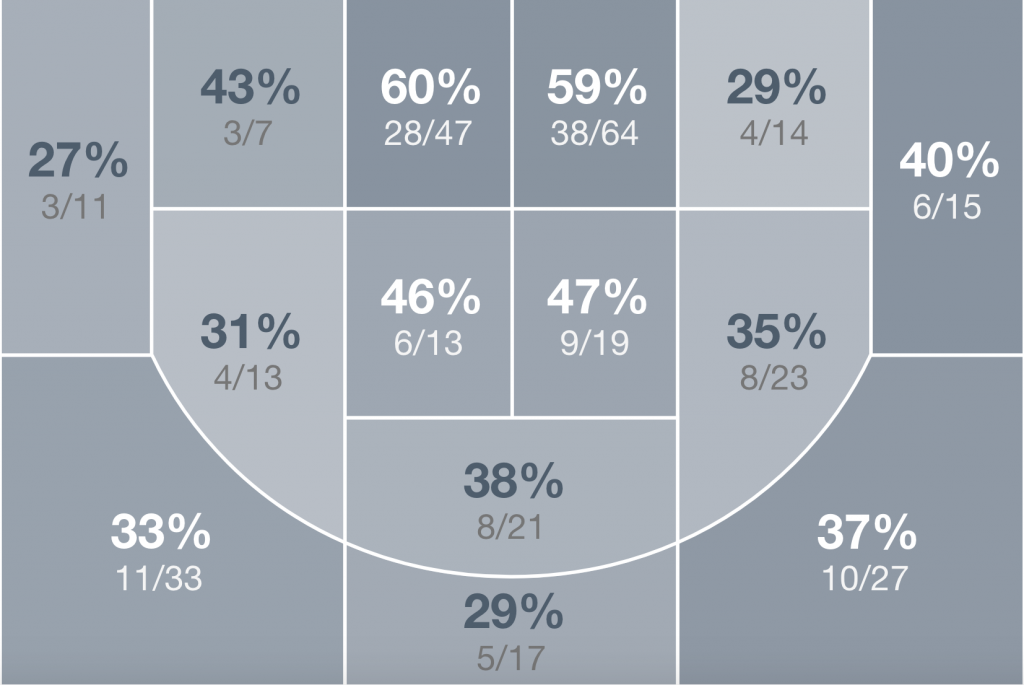 That group posted a collective 0.87 VPS, canned just 10 of its 47 (21.3 percent) 3-point attempts and turned the ball over on nearly 15 percent of their possessions. Their inability to provide value submarined the superhuman efforts of the team's stars.
Constructing a team to stop the Warriors monster is obviously a tall task. Despite some free agency concerns this offseason, Golden State appears poised to be the title favorite for the next several seasons. But the Finals showed some ways in which the Dubs might be topped. The Cavs weren't able to top full advantage of those cracks, but with some savvy offseason moves, maybe some team might.
These numbers are the types of insights that help coaches and front office personnel make critical roster decisions, and they're available to you with Hudl. You can break down the numbers yourself or let Hudl Assist do the work for you. Either way, you'll have access to numbers, charts and trends that bring new life to the game.