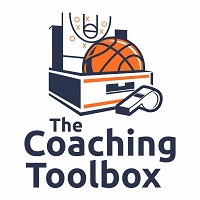 This drill is from University of Arkansas women's Head Coach Mike Neighbors.
He has the longest running basketball coaching newsletter and it always contains great information.
If you are interested in being added to his email list, send me an email and I will pass it on to Coach Neighbors.
Great drill to work both sides of the ball simultaneously.
Can be made competitive in a variety of ways.
Can be played possession by possession or for time depending what you are looking for that practice.
Purple starts out on defense with 4 players defending 5 gold players.
The 5th purple player must stay on their offensive end at all times but can position themselves wherever they choose to set up.
<— Gold plays on offense until they score, turn the ball over, or purple rebounds a missed shot. —> In transition purple becomes the attacker with one gold team player designated to stay "back"
Drill repeats continuously until you choose to stop.
Things it emphasizes:
– talking in transition to know who is getting back and who is staying back
– attacking in transition with long pass, quick outlet, hard advance dribble
– playing in the half court in scramble mode
– identifying personnel and defending accordingly
Things it emphasizes (continued):
– locating the open player
– spacing
– balance of crashing offensive boards and sprinting back
You can also manipulate the foul rules to distort the game for the offense or the defense. Institute pass or dribble limits. Can play to a score or to a time. One of our players came up with, was play five trips until all five players have been the "back" person. As always, let us know ways you tweak the drill to fit your system.