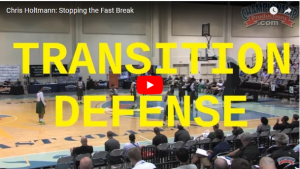 I am a big believer that half court defense starts full court and that you can't be a great defensive team without being great in converting to defense to force your opponent to play against your half court defense.
The video is 5 minutes of Ohio State Coach Chris Holtmann going through his Conversion Defense System.
His system utilizes the 3 rebounders to the offensive glass when the shooter lifts for the shot, along with a fullback and halfback. Coach Meyer called the 3 offensive rebounders the "tailbacks"
Coach Holtmann goes into the initial roles for the fullback and halfback.
If you are interested in finding out more about the DVD that the video sample came from, click here:
Chris Holtmann: Stopping the Fast Break – Basketball — Championship Productions, Inc.
Make sure your sound is on as you watch.
The video is a You Tube video.
Click the video to start the presentation.