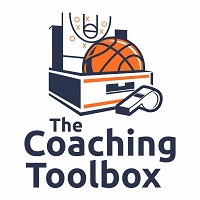 As coaches continually look for ways to improve their teams, I believe that analytics will be one of the next major trends that filters down from NBA and WNBA through college and eventually to high school.
To give you an idea of what is being measured, I have included some links to samples of an NBA teams stats pages at the end of this post. For shooting, they break down effective field goal percentage (link is to the previous post on effective field goal percentage) by catch and shoot, dribble pull-up shots, how many dribbles prior to the shot, how close the nearest defender was, and how far into the shot clock the shot was taken. The NBA pages also have examples of metrics of Dean Oliver's four factors that correlate to winning.
Not all of those will have significance for you, but I have had experience with different players and teams where presenting statistical data about our performance has made a difference to our success. At different times and with different teams, I have measured factors such as how long we had the ball before shooting, a specific individual post player's shooting percentage on the right block compared to the left block, a specific perimeter player's shooting percentage for catch and shoot compared to one or two dribble pull ups made a difference in our performance and our number of victories.
The important data points vary with each new season and new player combinations, but determining what metrics make an impact each year is a part of the art of coaching.
Having been at a couple of small schools, I realize that you can't measure everything but I truly feel that by investing the time to focus on a few key analytics and applying them not to both evaluate your players and team's performance, and to determine and teach the most effective style of play. Mining Key analytics is a project that an assistant coach or a capable manager can have delegated to them.
"Touch Time"
Here is one stat that you might be able to use with your players as you practice or play summer league games to help convince them that the best teams pass and move the basketball and don't hold it. Touch Time may not be the analytic that you are looking for, but I have always been a believer that "anything that is measured and watched improves" because you and the players will place more of an emphasis on it. Find something that you can improve in your program by measuring it.
Touch time is defined as the amount of time a player has the basketball prior to shooting. Stephen Shea (PHd Mathematics, Wesleyan University) wrote an article on his site regarding touch time and its correlation to effective field goal percentage. I have also included a link to that article below.
The findings were that, on average, NBA players who shoot in less than 2 seconds after getting the ball have an Effective Field Goal Percentage of .54. The Effective Field Goal Percentage of players who shot with a Touch Time of between 2 and 6 seconds dropped to .44. If the player had the ball for more than 6 seconds before shooting, the EFG% is slightly less than .44.
According to Shea, during the 2014-15 NBA regular season, the Atlanta Hawks had the highest percentage of shots taken with less than two seconds of touch time. Atlanta's Head Coach, Mike Budenholzer, spent 18 years on the San Antonio Spurs staff, and know the type of ball movement that the Spurs play with.
Shea also points out that this data includes all clock situations and transition shots. I believe that it would be more helpful for high school and college coaches to know the numbers for half court offense, the breakdown for man to man defense and zone defense, and probably other scenarios that I am leaving out. I do definitely think it is something to think about for how your team players and team score most effectively. It is also worth considering having a manger use his or her phone as a timer and your game or practice video to collect some hard data.
I am not suggesting that you can use all of the ideas from the NBA you don't have the time for that. I am also not suggesting that every statistic is relevant for every team . What I am suggesting is that it is at least worth taking some time to be aware of where basketball data is trending and will continue to trend over the next few years. I also believe that if you can find data and hard numbers for when your players are and are not effective, you can use it as one additional piece of evidence as you teach your players how you want them to play.
To see an entire article written by Stephen Shea regarding touch time, click here: Touch Time
For more ideas on how the NBA uses analtyics, here are some links as to what they track (Hope it gives you some thoughts on a stat or two that can help your team):
If you look at the links on the top navigation bar, you can find links to other data that they track.
Field Goal Percenetage on 1 Dribble. You can change the filter at the top of the page where it says "Dribble Range" to select different numbers of dribbles.
Field Goal Percentage Early in the Shot Clock (18-22 Seconds)
Field Goal Percentage with Touch Time 2-6 Seconds
Again, if you are interested in seeing more, just check out the nav bars at the top of those pages. I know you can't do even close to all of them, but you might find one idea that will help your players focus on being more effective at playing the way you need to play to win.