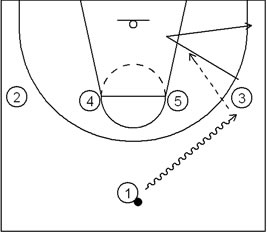 This play is run against man to man defense.
I got it from a Creighton Burns' newsletter.
If you are interested in receiving his newsletter, contact us and I will put you in touch with Coach Burns.
This play features 2 staggered double screens.
I also partner with Coach Burns on a website where we have posted several of his plays. The URL is: www.coachingbasketball.org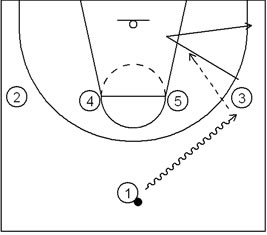 #1 dribble chases #3.
#3 runs a back door cut and if he does not get the ball he will move back to the ball side corner.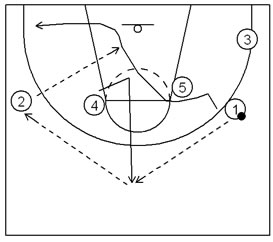 As #1 reaches the wing position (free throw line extended) #4 will set his defender and fill the point.
#1 will make the pass to #4 and #4 will complete the ball reversal by passing to #2.
On the pass from #4 to #2, #1 will run a shuffle cut off a back screen set by #5.
If #1 is open, #2 should get him the ball.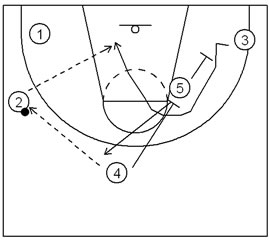 As soon as #1 cuts past #5, #4 and #5 will set a staggered double screen for #3.
#3 will act as if he is going to fill the point, but instead he will curl round the screen and cut down the middle.
If #3 is open on this cut, he should get the ball from #2.
#4 sets his screen and then replaces himself at the point.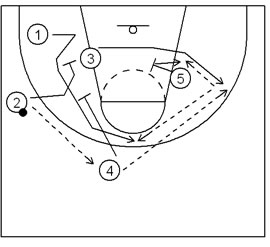 On the pass from #2 out to #4, #5 will screen into the lane, and #3 will use the screen to free himself on
the back side wing.
#5 will set the screen into the lane, and then post hard.
#4 and #2 will set a staggered double for #1 who will use the screens to try and free himself at the point.
#3 may have a shot, drive, a post feed to #5, or a pass out to #1 cutting to the point.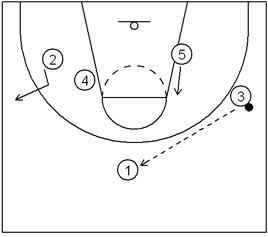 If #1 does not have an offensive move or a shot, the players are in position to repeat the play entry, or #1 can call out another play entry.