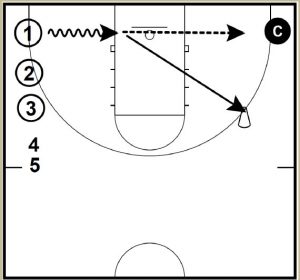 This shooting drill is from the September St. Edward's University Men's Basketball Newsletter.  I hope that you can use it to add to and to compliment your basketball shooting drills.
Scroll down for a diagram of this basketball drill
This drill is designed to work on the baseline drive and drift with guards and wings.
Player (1) will attack off the dribble from the corner. Player (1) will rip, dribble baseline, and pass the ball to the coach in the corner.
Player (1) must hit the coach in the hands. If the ball is delivered right into the coach's hands, Player (1) will be rewarded with a shot on the ball side wing.
The description is continued below the diagram
If the pass is not on target, the coach will drop the pass.
Recommendation: Do this drill for two minutes at two different hoops.
Have two groups compete against one another for the highest score. The team that losses will run.