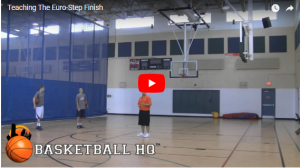 In my opinion, the Euro Step is a good finishing move in both transition and in the half court.
I believe that it is important for players to develop moves to finish at the basket against a good or a large (or both) defender they they have practiced and are confident in. The more confidence a player has in his or her ability and moves to finish at the basket, the more they can be the aggressor rather than being dicated to by the defense.
I have posted a couple of videos below that show a couple of ways to teach the move.
Make sure your speakers are on to see and hear the youtube videos These are youtube videos, so please make sure that you are on a server that allows youtube access.
The euro step is a good way for a player to avoid picking up a charging foul and also to get a clean look at a layup against a good defender.
In addition to working attacking the basket from straight on, I think it is important to also work on finishing coming from both the left and right side.
Even if you don't like this move, I hope you will find what works for your players and develop a system to teach then and implement them in you scoring drills in practice and in summer workouts.
Press the play arrow to see the YouTube videos.