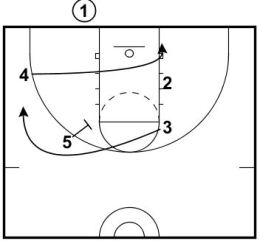 This post has two ideas for plays to run against 2-3 zones.
The first is a Baseline Out of Bounds play for a three point shot from Purdue.
The second is a quick hit to get the basketball inside from Kansas.
These plays are from Scott Peterman's Zone Offense and Zone Defense notes collection.
I have several playbooks available in bundles of 4 for $35. You can make your selections here: eBook bundle pricing
Purdue BLOB
Diagrams created with FastDraw
The action begins with 4 making a hard cut out of the corner to carve out space on the opposite block in front of the weak side defensive forward.
If he does a good job, it draws the middle defender towards him as well.
At the same time, 3 loops from the weak side elbow to the strong side wing with 5 screening in for him.
In diagram 2, you see 2 follow a similar path once 3 has cleared the wing area.
2 should be open on this as the ball side guard defender will have chased 3 and the opposite side guard is caught
on 5's screen.
This is consistently an open three for the Purdue player in this position.
Kansas Zone Quick Hit
Starting in 1-2-2 set, the action is initiated by the 2 wings running into a cross.
2 goes first with the goal being the two wings crossing each other's body on the right side of the lane.
Rather than popping out to the wing, 3 steps to screen for 4.
4 gets another cross screen from 5 and cuts underneath the rim to a spot just below the block to catch a post entry pass from either 2 or 1.