This set from Ohio State's Chris Holtmann (formerly of Butler) is a part of Chris Holtmann's Ohio State/Butler Playbook assembled by Matt Bolger
4 eBooks $35
(Click for more information about each)
ID 187 Chris Holtmann Playbook, Archie Miller Playbook, Ultimate Scoring Drills eBook, 2017 NCAA Tourney Plays
ID 27 Brad Stevens Butler Playbook, Packline Defense, Spurs Playbook, Attention to Detail eBook
ID 29 Louisville Playbook, Comprehensive Ball Screen Playbook, Fred Hoiberg Iowa State Playbook, Winning Special Situations
ID 65 Ultimate Horns Playbook, Versatile Swing Offense Playbook, Spread and Go Offense Playbook, 130 Ways to Improve Practice
Or, you can click here to create your own bundle of 2 eBooks for $25:
If you want me to put any 4 eBooks together for you, email me at bwilliams@coachingtoolbox.net or call/text me at 765-366-9673
Diagrams created with FastDraw
Chris Holtmann Horns Stagger Throwback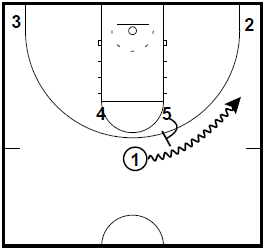 5 comes up to set ball screen for 1 on 3 point line.
1 dribbles over to the wing.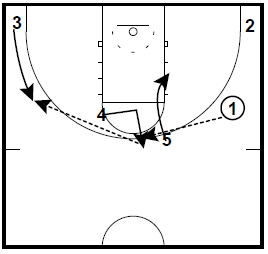 5 makes a short roll to the high post.
4 flashes to top of the key.
1 reverses to 4 as 3 cuts to the wing.
4 passes to 3.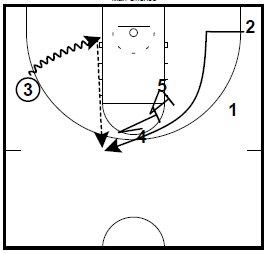 2 walks in defender to short corner.
5 fakes back screen for 4.
4 fakes ball screen for 3.
3 drives baseline.
5 and 4 set stagger for 2.
3 can throw back to 2 off a jump stop and reverse pivot for 3.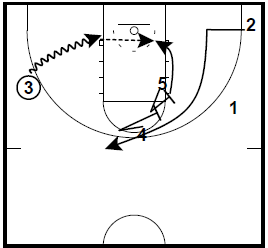 3 also has the option to take it all the way to the rim.
Or if stopped, may have 5 slipping to the basket.
You could also have 1 sink to the corner.
4 eBooks $35
(Click for more information about each)
ID 187 Chris Holtmann Playbook, Archie Miller Playbook, Ultimate Scoring Drills eBook, 2017 NCAA Tourney Plays
ID 27 Brad Stevens Butler Playbook, Packline Defense, Spurs Playbook, Attention to Detail eBook
ID 29 Louisville Playbook, Comprehensive Ball Screen Playbook, Fred Hoiberg Iowa State Playbook, Winning Special Situations
ID 65 Ultimate Horns Playbook, Versatile Swing Offense Playbook, Spread and Go Offense Playbook, 130 Ways to Improve Practice
Click here to your own bundle of 4 eBooks for $35:
If you want me to put any 4 eBooks together for you, email me at bwilliams@coachingtoolbox.net or call/text me at 765-366-9673