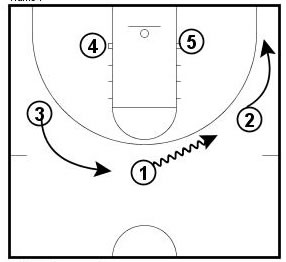 This play is from an older version of the the Arizona Basketball Coaching Newsletter.
This play is designed to be a one or two times a game quick hitter to run against a 2-3 zone defense.
If you are interested in subscribing to their newsletter, email me and I will ask them to add you to their list.
Please include your name, school or team, and coaching position.
The newsletter is a monthly one.
#1 Dribbles at #2 and pushes #2 to the corner.
#3 replaces #1
#1 passes to #2
#3 and #1 interchange positions.
#2 dribbles up and passes to #3
#5 and #4 "x"
#3 quickly passes to #1
#4 screens the backside forward
#5 screens the ballside forward
#2 cuts for the lob
#1 throws the lob pass to #2 (DOES NOT HAVE TO BE A DUNK)