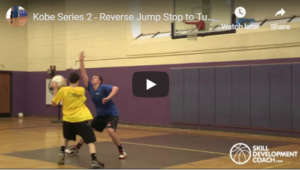 These four videos are with Coach Rich Walton and from his Skill Development Coach program. The program breaks down skills into a table that is patterned after the Periodic Table of Elements.
If you are interested in the program for coaches, you can find out more at this link: Coaches
There is also a program for Skills Trainers: Basketball Skill Trainers
Please make sure that your sound is on
Reverse Jump Stop to Turnaround
These are You Tube videos, so please make sure that you are on a server that allows you to have You Tube access.
Click the play arrow to see the video.
The reverse jump stops allows the player to use either foot as a pivot foot.
Opposite Foot Crossover
This move allows players to create space either for a shot, or to set up another dribble move.
Fake Baseline Pullout Reverse
A second move to beat a defender who has shut off a baseline drive.
Inside Pivot One on One Moves
This video has several variations of moves using an inside pivot.
You can get a free two week trial for Skill Development Coach. Text Coaching Toolbox to the number 31996 for a 2 week free trial.
If you are interested in the program for coaches, you can find out more at this link: Coaches