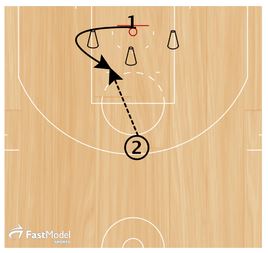 This drill was posted by Coach Dan Murphy in FastModel Sports Plays and Drills Library
You can also find out more about their Play Diagramming software by clicking this link: FastDraw
I have also posted a You Tube video of Detlef Schrempf putting some players through the drill.
This drill works on players footwork and scoring around the basket.
In this drill, players work on positioning their body and feet for a drop step, hook, and up and under to improve scoring at the basket. You can add whatever moves are your players go to moves.
After getting the footwork down without defense then dummy defense should be applied.
The defense should over play to allow the offense player to get a feel for the reads.
As an offensive players skill and comfort level increases with the dummy defense, then the defense should increase their intensity.
Schrempf Shooting
Player 1 curls around the cone and receives a pass from a coach.
Player 1 drop steps for the finish.
After catching and drop stepping, player 1 continues curling around the cone on the opposite side for another drop step.
The next shot is a catch and shoot hook.
The third shot is and up and under.
The fourth shot is if a player is denied a pass in the post they spins away from the defense for the lob pass.
Below is a short You Tube video with Detlef Schrempf putting some players through the drill.