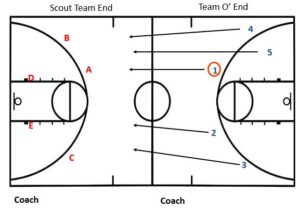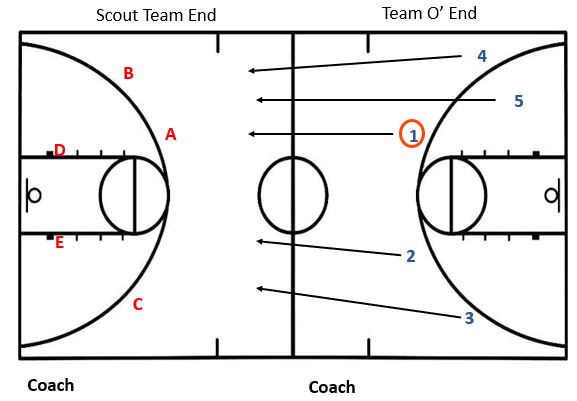 Contributed by Derek Sheridan, Head Boys Coach Delta High School (Delta, Ohio)
PURPOSE:
To work on team offense & defense simultaneously.
To shorten practice sessions the day before a game or days near a game where the players are still making contact with each other & running up & down the court.
Breaks up the monotony of traditional "scouting" practices. Players like this drill.
RULES:
One coach has the team who starts on offense. This team runs through the prescribed offense(s), set(s), &/or offensive action(s) 5 v. 0.  We usually executed 3 sets prior to transitioning to D'.
On the coach's cadence, the ball is outletted to the next offensive team's PG on the SIDELINE & all 5 players (who just ran offense 5v0) sprint & touch the bankboard & then transition to the opposite end to defend the oppositions set/offense/action.
A different coach has 5 players on the opposite side of the court who run the opposition's offenses, sets, &/or actions that need to be broke down & repeated.

Typically, the defensive team defends the offense at full speed. Then the coach takes the court and breaks down the set/offense/action step-by-step, detailing the timing, ball movement, player movement, and desired outcome.  The defense will then defend he set/offense/action again in full speed, then rotate off the court.

To make the drill flow & run as smoothly as possible, the JV coach takes his team to a side basket or Aux gym & teaches them the oppositions sets/offenses/actions prior to the beginning of practice or while the varsity team is performing their pre-practice warm ups routine/shooting. This way once the drill starts there is little to zero stoppage of movement.
ROTATION:
Rotations are contingent on how many players/teams are involved in the practice session.
Most teams practice varsity & JV combined. Unless the coach has a "scout team" available, he will need at least 10-15 players for this drill to flow smoothly.
Below is an example of the rotations from one of our practice session #57:
SETS TO DEFENSE ROTATION: (1st Team v. JV, 2nd Team v. JV, JV v. First Team)
2-Guard / Circle / Frank v. BHS "X"
Pairs / X-Lo / JK v. BHS "Circle"
Spartan / Spartan:JK / Slap v. BHS " Purdue"
"Go" / "Down" / "Green" v. BHS "Hi/Lo"
"Spartan" SLOB v. BHS "Center Screen"
"Spartan:Slap" SLOB v. BHS "Duke" BLOB
"54" SLOB v. BHS "Line" BLOB
"Tommy" SLOB v. BHS "24 Inbounds" BLOB
"Royal" BLOB v. BHS "20 Inbounds" BLOB