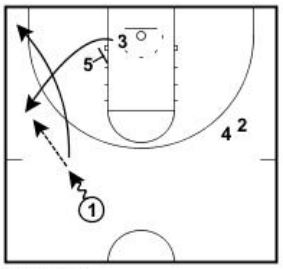 A couple of plays from the Arizona Men's Basketball Coaching Newsletter.
One of the actions is a way to deal with teams that double team your low post player.
The second action is a way to attack perimeter switches that are mismatches that you can take advantage of.
Even if these sets don't work for your personnel, I hope it gives you some inspiration as to how you can take advantage of these situations when they occur against you.
If you are interested in joining their monthly newsletter list, please email me your:
1) Name
2) email address
3) Coaching Position
4) School or team
and I will pass it on to their staff.
The newsletter comes out once each month at the beginning of the month.
Diagrams created with FastDraw
Attacking a Post Trap
Run this and similar actions when you face teams that trap the post or if you have an exceptional post player who is trapped.
5 screens 3 to the wing.
1 hits 3 and cuts to the corner.
4 and 2 are spaced on the opposite side wing.
As the ball is fed to the post and the defense traps the post, utilize the player being guarded by the trapper (#4) to screen the defender guarding the shooter (X2)
2 moves to a spot where 5 can get him the ball by throwing out of the trap.
Attacking a Perimeter Switch/Mismatch
#1 dribbles to the right side deep elbow.
#4 screens #2 into an on ball screen for #1
The purpose of the ball screen is to create a switch betwwen X2 and X1
2 quickly sprints out of the screen.
5 ballscreens for 2.
The left side of the floor is clear if 2 rejects the screen.