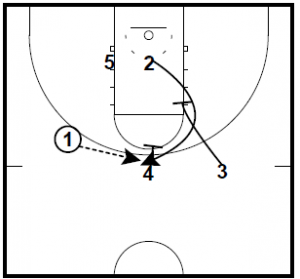 A couple of man to man plays from the Men's NCAA Tournament.
The plays are from the NCAA Tournament Best Man Offense Plays eBook by Matt Bolger.
Diagrams created with FastDraw
"Gonzaga Cross Stagger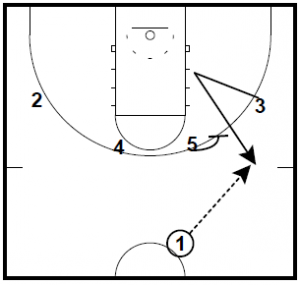 5 turns and screens down for 3
3 v cuts to the high wing
1 passes to 3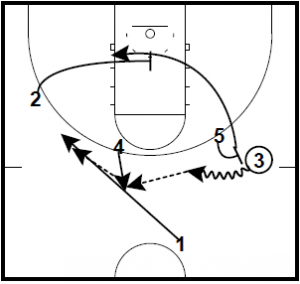 5 sets a ball screen for 3
4 pops higher even with the lane line extended
1 cuts away to the opposite wing
3 dribbles off the ball screen and passes to 4
2 steps into the lane to screen for 5
5 rolls and comes under 2's screen to the block
4 passes to 1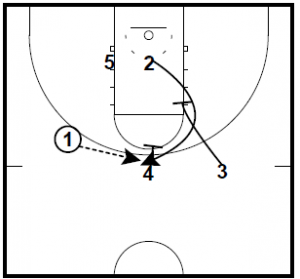 3 and 4 set stagger screen for 2
After setting the cross screen for 5, 2 comes up the lane off the stagger screen to the top of the key
1 passes to 5 at the block or 4 at the top of the key
Dayton Circle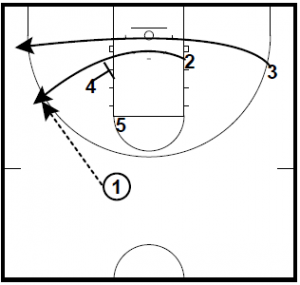 2 cuts to the wing off a screen from 4.
1 passes to 2.
3 cuts through to the opposite corner.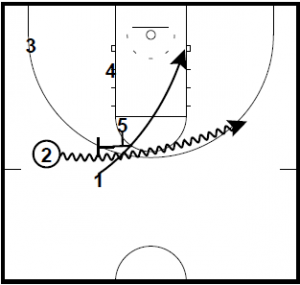 1 cuts off a back screen by 5 to the weak block
5 then follows with a ball screen for 2
2 dribbles to the opposite wing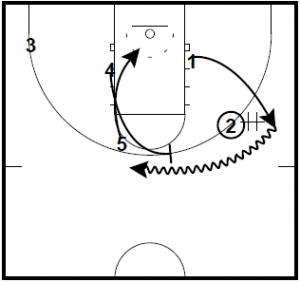 1 cuts up to the wing to complete DHO with 2
5 rolls to the weak block
4 circles up to set ballscreen at top of key
1 dribbles off the 4's ball screen for a shot or drive to the rim