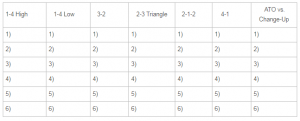 This pre-season checklist was sent to me by Derek Sheridan, Head Boys Basketball Coach at Delta High School (Ohio).
I hope that this can serve to stimulate your thinking and your staff's thinking about what you need to do to get the most out of your team for the upcoming season.
I know for me, putting my thoughts and ideas in document format, and making lists works best for me to flush out and clarify my beliefs, and then turn them into actions.
Here is Coach Sheridan's Document that he and his staff use:
The value in this exercise is what you will plan to do and then execute to play to your strengths and avoid your weaknesses.
Just because the worksheet suggests listing 10 does not mean that you should have 10 items for each list.  You might want to list 10 possibilities and then trim that number down as you have flushed out the possibilities or as you experiment with them once practice starts and see that some are not a good fit for this year's team.
A. Offensive Strengths
1.
2.
3.
4.
5.
6.
7.
8.
9.
10.
B. Offensive Weaknesses (also list 1-10)
C. Defensive Strengths (list 1-10)
D. Defensive Weaknesses (1-10)
E. Best team in our sectional
F.  How do we have to play in order to beat the best team in our sectional?
1) Offensively
2) Defensively
G. Projected starting 5
H. Projected second 5
TEAM ZONE OFFENSE
A. Zone Motion/Continuity Offenses vs. even-front ZONE defenses that highlight our strengths and hide our weaknesses (List 1-6)
B. What sets will allocate inside scoring vs. even-front ZONE defenses (list 1-10)
C. What sets will allocate perimeter scoring vs. even-front ZONE defenses (list 1-10)
D. What sets will allocate driving (getting to FT Line) scoring opportunities vs. even-front ZONE defenses (list 1-10)
E. Zone Motion/Continuity Offenses vs. odd-front ZONE defenses that highlight our strengths and hide our weaknesses (List 1-6)
F. What sets will allocate inside scoring vs. odd-front ZONE defenses (list 1-10)
G. What sets will allocate perimeter scoring vs. odd-front ZONE defenses (list 1-10)
H. What sets will allocate driving (getting to FT Line) scoring opportunities vs. even-front ZONE defenses (list 1-10)
I. BLOB plays vs. Zone Defense (list 1-10)
J.Offense vs. Junk Defenses (list 1-10)
K.SLOB plays vs. Zone Defenses (list 1-10)
L. Press offense vs. Half Court Trap (list 1-10)
M. Full Court Press Offense vs. Zone Presses (1-10)
TEAM MAN TO MAN OFFENSE
A. Motion/Continuity offenses that highlight our strengths and hide our weaknesses. (list 1-10)
B. What offensive actions will allocate inside scoring and who needs to get the ball? (list 1-10)
C. What offensive actions will allocate perimeter scoring and who needs to get the ball? (list 1-10)
D. What offensive actions will allocate driving (getting to the FT line) scoring opportunities and who needs to get the ball? (list 1-10)
E. Sets for inside scoring (list 1-10)
F. Sets for penetration (list 1-10)
G. Master Entry List
1-4 High
1-4 Low
3-2
2-3 Triangle
2-1-2
4-1
ATO vs.
Change-Up
1)
1)
1)
1)
1)
1)
1)
2)
2)
2)
2)
2)
2)
2)
3)
3)
3)
3)
3)
3)
3)
4)
4)
4)
4)
4)
4)
4)
5)
5)
5)
5)
5)
5)
5)
6)
6)
6)
6)
6)
6)
6)
H. Master Set-Play List (Families)
Family
Names
Chase Goes
Ball Side
Chaser
Trails
Switching
Backdoor
Lob
Full Front
Post
Play
Behind
Post
1)
1)
1)
1)
1)
1)
1)
1)
2)
2)
2)
2)
2)
2)
2)
2)
3)
3)
3)
3)
3)
3)
3)
3)
4)
4)
4)
4)
4)
4)
4)
4)
5)
5)
5)
5)
5)
5)
5)
5)
6)
6)
6)
6)
6)
6)
6)
6)
Special Situations/Game Winners:
BLOB vs.
Man to Man
1)
2)
3)
4)
5)
6)
BLOB vs.
Zone
1)
2)
3)
4)
5)
6)
Deep SLOB
vs. M to M
1)
2)
3)
4)
5)
6)
Deep SLOB
vs. Zone
1)
2)
3)
4)
5)
6)
Short SLOB
vs. M to M
1)
2)
3)
4)
5)
6)
Deep Corner
BLOB/SLOB
1)
2)
3)
4)
5)
6)
Full Ct.
Need 2
vs. M to M
1)
2)
3)
4)
5)
6)
Full Ct.
Need 3
vs. M to M
1)
2)
3)
4)
5)
6)
Half Ct. Need 2 vs. Man to Man
1)
2)
3)
4)
5)
6)
Half Ct. Need 3 vs. Zone
1)
2)
3)
4)
5)
6)

Free Throw Sit Down 3

1)
2)
3)
4)
5)
6)