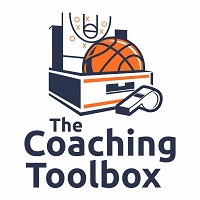 These basketball coaching thoughts came from Army Men's Assistant Zak Boisvert's PickandPop.net site.
The site has a lot of quality coaching ideas and information.  Definitely worth a look!
These are his Coaching Takeaways from August:
-Pete Carrill (Princeton): Players win games. Coaches win practices.
-Jay Wright (Villanova): Your reads on a dribble pickup off a penetration drive are the following: Down (to the big), Opposite (weakside perimeter), Behind (to a teammate circling behind), Back (turn back to the rim to score).
-Fran Dunphy (Temple): "Know who you are" is a phrase we use a lot. If you're a good jump shooter, let's get you some jump shots. When you step outside your comfort zone, you can find success, but we want to do things that will make us successful 60 to 70 percent of the time.
Steve Kerr (Golden State Warriors): I think team chemistry is determined by your top two players and your bottom few players on the totem pole. There's usually, on most teams, a pretty good pecking order, and you know who's leading the team — and their leadership is critical. But there's always stuff that can go either way. Players can fall from one side of the fence to the other.
-Chris Mack (Xavier): Break up your personnel into 3-4 different lineups for all dry-run offense segments. Doing this beforehand eliminates the coach having to worry about the right players getting the right reps during the segment. Example: you might have a kid that plays some 1 and some 2. He's the 1 on Team 1 and maybe he's the 2 on Team 3. It allows the players to get the reps at the spots they need to know with game-like lineups. Coach would call out "Diamond Rip" and Team 1 would run it then Team 2, Team 3, etc.
-Shaka Smart (Texas): "Cutthroat Catches" Post Drill. "How many post touches can you get in 30 seconds?" 3 passers around the perimeter (wing-top-wing) with 2 guys inside (O/D). 1 basketball amongst the 3 perimeter passers. 2 Managers on the baseline and another manager up top (manager is the facilitator who is feeding the 3 passers). Clock starts and offensive post works to get a catch in "The Box" as defensive player works to prevent catches. Offensive player should be communicating with the passers about where he wants the ball to go so he can seal. No lobs, only bounce passes into the post (own your space – don't break contact). As soon as he gets a catch, he drops the ball in the direction of the baseline and the facilitator up top puts another ball into play as the managers on the baseline scurry to collect the ball and throw it out to the facilitator up top.
-Phil Gaetano (Coppin State): when chasing the snake, you want to chase when the guard goes east to west, if he gets downhill to the rim then we Veer, which means big takes ball and guard cracks down to box out the big.
-Tobin Anderson (St. Thomas Aquinas): We don't shoot at all during practice. We do all our shooting in individual sessions outside of our practice time (aim for guys getting in 3 times per week).
-Lennie Acuff (Alabama Huntsville): Whether you run Princeton or not, you should be running "Princeton Point Screen Away" as a set.
-Fran Fraschilla: "Weaking" the high pick & roll to the player's left hand can backfire when you're in a "Drop" coverage because the PG will just snake it back to his right hand.
-Steve Kerr: "My whole thing as a coach is I want open shots. I don't keep track of how many 3's. I just want open shots. I'm not into the math stuff. We have great 3-point shooters and if we should space the floor and move and take a bunch of them, it makes perfect sense."
-Anthony Lynn: When I was promoted to Offensive Coordinator [mid-season on September 16th], Coach Parcells called and gave me advice. His systems have always been personnel-driven. It was something he always said in Dallas: Do what your players do best. Sometimes we get a lot of scheme in our head and we put too much on the players. You can have way too much volume. He's always told me insecure coordinators carry a lot of volume because they feel they don't have enough bullets. But it's not fair to your players because they can't play fast or physical and you can't see their talents. He encouraged me to look at the volume and figure out what we did best. He told me to cut the volume in half.
Steve Donahue (Penn):Before they go home for the summer, give your players an empty notebook to track their workouts. Note-taking is one of the most consistent habits in highly successful people.
-Mike Brey (Notre Dame): I'm a big believer in not getting too deep and relying on a core of guys who really know how to play together.
-Kevin Eastman: Something you can get out of your practice tape is slight offensive wrinkles/adjustments your first unit is making (sometimes unknowingly) to your offensive system due to the second team knowing what they're running. Some of our best offensive wrinkles in Boston were born out of KG doing this or that in practice against the second unit.
-Tony Dungy: With the Patriots, what's amazing to me is their ability to be able to execute and be on your fundamentals and still change approaches week in and week out, I have no idea how they do it, but that to me is the genius.
-Dave Faucher: When you have certainty of movement, you can play with great pace
 "A change of tempo is also very important in footwork so you're not always going at same the speed," Diaw said. "Sometimes you need to be slow to have good footwork. Having good footwork going 100 miles per hour is something that's really, really difficult."
-Fred Hoiberg (Chicago Bulls): I'm not a system guy. I like to run actions based on the strengths of personnel. Find actions to take advantage of a mismatch and play out of that.