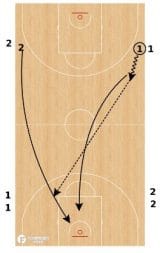 These full court basketball drills were posted on the FastModel Sports Basketball Plays and Drills Library.
You can also find out more about FastModel Play Diagramming software by clicking this link: FastDraw
The first drill, Hit Ahead Layups, was contributed by Coach Fabian McKenzie.
Coach McKenzie has been a head coach at the university level for 17 years, and has been involved as a coach at this level for 20 years. He has been involved with the Canadian Women's National team program for the past 9 years.
It is a good early season conditioning drill to help with passing and finishing with speed.
The second drill (Illine Fastbreak Game) was contributed by Coach Joel Hueser, Head Boys Coach at Papillion-LaVista South High School High School in Nebraska.
Here is what Coach Hueser said about the drill:
"Illini Break is a competitive, team transition drill. The offense has the advantage and gets to play fast. Forcing the defense to get back with a high sense of urgency. We want to always fastbreak on defense. But first, we must emphasize our offensive board coverage (OBC). Then, if we do not secure the offensive rebound, all five players must get into the habit of always sprinting back. We consider your first three steps "out of the gate" as the most important. Guarding the basket is our number one priority and then stopping the ball. Once back, all five defenders need to establish ball side and help side position. This drill demands that, and more. Get ahead of the ball! No back pedaling, buddy running (remaining side by side with your match-up) and/or pouting after a missed shot or turnover."
Since players are constantly coming into play, the drill also forces players to communicate as to who they are guarding.
Hit Ahead Layups
Players line up as shown at free throw line extended – out of bounds.
Player 1 starts the drill as Player 2 sprints up the floor.
Player 1 gets 1 dribble and must deliver a pass on time and on target so 2 can lay the ball up without dribbling.
1 must sprint after the pass and rebound the ball.
Original 1 gets the rebound.
As they are getting rebound, next person in 1 line circles for an outlet pass. As the outlet pass is happening, next in 2 line is sprinting wide up court.
1 gets 1 dribble and must hit 2 on time and on target for layup. 1 must sprint to rebound the ball.
The pattern for the drill continues.
Can change sides at any time or put a person on defense in middle of court forcing the offense to throw it high and over the head of the defender.
Rotation: after 2 takes layup they go to line 1. Once 1 makes the outlet pass, they fill line 2.
Illini Fast Break Game
Team 1 starts on offense and team 2 on defense.
Play out the possession.
Upon change of possession, team 2 outlets to teammates along baseline waiting to come on.
Team 1 must get back on defense.
At this end, play out the possession and team 1 outlets to teammates along the baseline.
Emphasize OBC and compete!
Score like a game. Either play to an established score, or for a specific time limit.