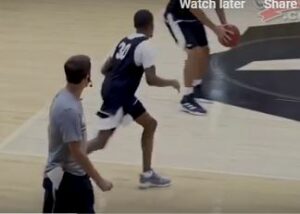 This video is with Arkansas' Eric Musselman. He has also been the Head Coach at Nevada as well as the Sacramento Kings and Golden State Warriors. In addition, he has been an assistant with several NBA and High Major College Programs.
The drill is to work on your fundamental passing that you make coming dribbling off on ball screens.
You will need to be on a network that allows you to access YouTube to view the video.
Click the play arrow to view the video.
There is narration with the video, so please make sure that your sound is on.
You can find out more about the Championship Productions video that this clip is from at this link: Eric Musselman's Favorite Practice Drills from the Pros.
The video with Coach is available in both DVD and online format.