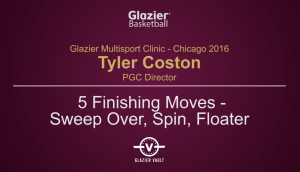 The Coach in the video is PGC Basketball Director Tyler Coston.
This video was filmed at the PGC/Glazier Spring 2016 Chicago Clinic.
If you want the best in basketball education, then you need to attend the PGC/Glazier Basketball Clinics this year!
They've changed the coaching clinic game forever with more topics, superior speakers, and a staff pass that includes unlimited coaches from your school.
2018 Clinic Dates
Fall Dates and Locations Coming Soon
Whether you agree or disagree with his opinions, I hope you might be able to find a teaching point or term that you can use in your program.
The moves he talks through and demonstrates are the:
1) Sweep Over
2) Dribble-Drop-Close Spin Move
3) Floater
Make sure your sound is on to hear the presentation