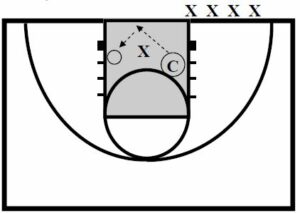 This drill is used by Arkansas Women's coach Mike Neighbors.
Coach Neighbors has probably the oldest and certainly one of the best basketball coaching newsletters.
If you would like to subscribe to his newsletter, email me and I will forward your interest on to Coach Mike Neighbors,
I have also posted links to other articles from Coach Neighbors at the end of the drill description.
WALLING UP is another vital technique to our PACK LINE DEFENSE
WALLING UP DRILL
Coach tosses the ball of the glass to be rebounded by the O player. The X gets her body as close to the rebounder as possible without fouling and without allowing that offensive player to drive around them.
The offensive player continues pivoting, X moves her feet in wall up position until whistle
Build the drill up.
Add the take a charge at the end.
Add offensive player taking a shot and defense contesting/wedging/then rebounding.
Points of Emphasis
It's my belief that even the very best players have a difficult time scoring over a great contest. And add active bodying to that equation and the percentage of made basket fall even further. TOO many times poorly coached players foul in these situations that bail out the offensive player.
Walling Up saves us about 10 points a game and at least five fouls on most nights.
Exaggerate players keeping their hands behind their body in this drill so that in games they won't be tempted to bring their arms down in these situations.
Officials tell us every year that our players do as good of job in this technique as any they officiate. We are easy to officiate around the basket and I can assure you we DO get some benefit of reputation as a result.