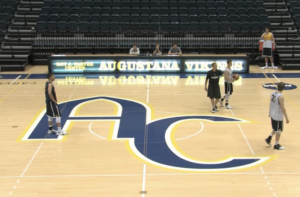 The Coach in this video clip is Grey Giovanine, Augustana College Head Men's Coach and 2015 Basketball Times National Coach of the Year.
In his scheme to defend a 2 on 1, the first defender sprints ahead of the basketball and make the ball handler make a pass.
The chasing defender is responsible for the 2nd pass.
In this version of the drill, one team goes until they get two stops. You could make it even more competitive by playing to 7 stops and allowing one team to continue to go on defense until they don't get a stop. The best way to run the drill is for you to modify it until it fits what you want to accomplish.
From an offensive perspective, you can also use this drill to improve your execution. 2 on 1 advantages don't last very long with other defenders sprinting back. You also don't get many of them during a game. 2 on 1 is such a big advantage to the offense that it is imperative to execute the ones that you do get.
If you are interested in finding out more about the DVD that the video sample came from, click here:
Open Practice: Ball Pressure Defense Drills – Basketball — Championship Productions, Inc.
Make sure your sound is on as you watch.
The video is a You Tube video.
Click the video to start the presentation.