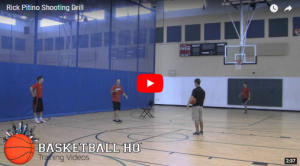 Former Louisville Assistant Basketball Coach, and current Arkansas State Head Men's Coach, Mike Balado takes you through a shooting drill they use at Louisville. The video is 2 and a half minutes long.
Louisville's goal is for players to make 80% of their shots in workouts when they are unguarded. Obviously, you can modify that for the level that you coach, but I like to have a standard for makes with all that we do with shooting.
Set up an obstacle (chair, cone, player, or coach) 2-3 feet outside the elbow on either side of the paint. Passer is above the key and. Station the rebounder under the basket. The shooter starts at the ten second line. Drill starts with passer hitting the shooter moving toward the chair. Shooter will dribble with their inside hand. At the imaginary defender make any crossover move so that the ball is now in their outside hand. Take 2 dribbles, and then pull up for a jump shot.
After they shoot they are going to take two steps towards the baseline and then come off the chair for a down screen shot. The next shot is a flare screen (using the chair as the screener) shot. After the fade shot the shooter sprints back to half court and will shoot the same patter 4 times (12 shots). Run the drill on both sides.
After you have watched the video below, you can see another shooting drill that I posted last spring from the Louisville Program by clicking here.
The video is a one of the 1,000's of basketball training videos for all levels of coaches, players, and parents that is offered by BasketballHQ. You can access their entire library with a pro membership. They offer a free 7 day trial for the the membership. If you are interested, you can see more at this link: Basketball HQ
Please make sure your sound is on to see the video